You would relate well with her story if your mum is like hers. For busty actress, Ronke Ojo aka Ronke Oshodi Oke, growing up was not too pleasant but she has the best of mums. She bares more in this interview:
What does your mum do for a living?
She used to be a teacher back then but now she has a shop where she just goes to fight boredom and maintain some level of activity
What was it like growing up as a teacher's daughter?
My mum is a very good woman. She is always good at what she does and she was able to relate well with us. But you know teachers, what they want is what they want. When my mum wants you to do something you must do it. She did a very good job as a mum but she was very strict.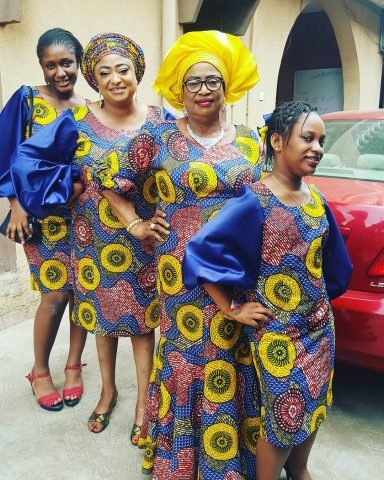 Were you not afraid when she had to go through your schoolwork?
We were always afraid. She made us read so much and she would thoroughly go through our books. She made sure we did all our schoolwork before we were allowed to play.

Did she use the cane often or she preferred to talk?
She preferred talking to us but sometimes she used the cane.
But would you have preferred the cane instead of her talk?
Of course, I preferred her talking to me than using the cane. I have always been a quiet child. I did not like the cane and she knew that I did not like the cane so she would rather talk to me. At times, she would threaten us with the cane, by saying, "I will beat you, you better behave yourself," and whenever I heard this I would quickly do what I ought to do.

Despite being quiet, was there a time you made her really mad at you?
Before I came into the industry, I was very quiet. But when you are in the industry, because of some things, you have to talk. Even when you are quiet in nature, you have to talk. I was quiet but tough.

As a strict mum, did she like you acting?
My parents did not like it at all. Most especially my dad; may his soul rest in peace. Amen! He did not like it but at a point, he asked me if that was what I really wanted to do and he said to me, "Okay if this is what you want, I would support you."
Was there a time your acting got you into trouble with your mum?
No, there has never been a time like that in my career till now; that someone would call my mum and say that I had done sometime wrong. It has never happened.
What is her best dish?
She loves pounded yam and vegetable soup (eforiro) and she also likes rice.


What food does she cook that you love?
I love her stew. When she cooks it, she cooks it very well.

What is your mum like now compared to before?
Beautiful! Now she is soft. She listens more and she relates with her children more. I was like were you not the one that brought us up, what changed and she is like, it's life, as you are growing up you tend to loosen your hand.

As a teenager, what was your relationship with your mum like?
Our relationship was good. When I was a teenager, especially my dad, he would always advise me. My mum also did but she was always the hyper type and my dad was kind of cool. Back then, my dad would call me, talk to me, advise me, go through the scriptures with me, but my mum would scream, 'What are you doing?'

What did she tell you about boys?
Just like every mother tells her children – boys are not good and all that.

When last did you see her?
She lives with me now.
What is her relationship like with her grandchildren?
She is kind with them and she relates well with them.

What are the things that make her happy?
She is always happy when we are doing well and fine. She loves to be around her children and grandchildren. Also, we try as much as possible to make her happy too.
What was the greatest sacrifice she made for you as a child?
My mum did a lot; it was not easy. When we were growing up, things weren't easy. At a point, she sold some of her things just for us to be educated.
What are the features you picked from your mum?
I took her stature. My dad is very quiet just as I am and when you see him you will know I look like him.

Were you closer to your dad or mum?
Well, you know how a typical Nigerian mum is but that doesn't mean I don't love her. But my mum, being a teacher, was very strict too. So, I tilted more towards my dad. My mum is also very nice but I really can't tell which of them I am closer to because they both have their strengths.
What are the things your mum enjoys doing?
She loves to take long walks and she dances a lot.
Is your mummy very fashionable?
Ha! You need to see the way she dresses. My mum is very fashionable. She loves to dress up even when she is not going anywhere.
Source: SUN