Nollywood Yoruba actress Iyabo Ojo, is sure proud of
her kids now that they have grown.
A single mother of two, she wrote a love note to her
children on Instagram a few hours ago: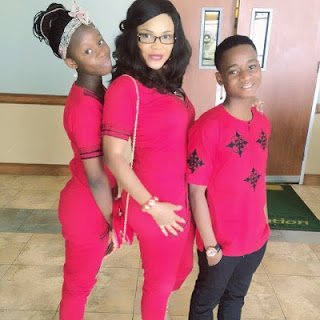 Iyabo and kids
"My world is u and u are my world. Keep making mama
proud! U both are d true definition of LOVE, the reason why I can't stop
succeeding

#familyisgolden




#mykidsmylife

.
I remember those days when I had to go sell my gold set anytime I didn't have
enough money to pay 4 my kids primary school fees, Until one day I found out I
had no more gold to sell n I had to work back to back 4 peanut just to gather
money to pay, wondered that day with tears in my eyes if I would be able to see
my kids thru school all on my own; hummmmnm but today all I have is gratitude 2
Baba God, Jah u are too much. In less than 2 months priscy too will be
graduating from secondary school! Hummmmm. How time flies.

#Godwin

#blessallgoodmothers

."
(sic)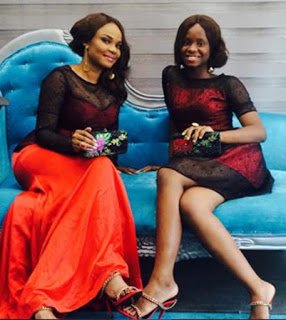 Iyabo and daughter
Though she started acting since 1998, Iyabo Ojo, who said she divorced
her husband due to emotional torture, now runs a spa on Allen Avenue, owns a
film production outfit, and manages a non-profit organisation called Pinkies
Foundation.
Her new luxurious lifestyle is unrivalled. Little wonder she remembers
the days of struggles.
Sources close to her have revealed there is a new man who provides for
all of her needs. He is said to be rich, influential, and a former serving
Minister of the Federal Republic of Nigeria, who later became an Ambassador to
a neighbouring African country.
Iyabo and son
He is said to spoil her silly. Her teenage son, Festus, currently schools in
the United States of America, and lives like a prince. The Senator-former
Minister-lover of his mum is bankrolling this.
Now that her daughter, Priscy, is almost out of secondary school in
Nigeria, sources said she will also join her brother abroad.
This is a trend among Nollywood stars with children of school age—they
are now sending their children to study abroad. Last week, Hilda Dokubo's son,
Tuvy, passed out of College in Columbia, the United States of America.