Mrs. Chidi Alexandra Onyemelukwe, who is the first daughter of the former vice president, Chief Alex Ekwueme, emerged the running mate of Oseloka Obaze, the Peoples Democratic Party (PDP) candidate in the November 18 Anambra governorship election.
Ekwueme-Onyemelukwe was said to have been picked after painstaking consultations and from a shortlist of very eminently qualified members of the PDP.
The pretty daughter of the former Vice President was the first woman to chair the board of the Federal Housing Authority.
In an exclusive interview with Kemi Ashefon, she reveals her intimidating resume: Studied Law at University of Cardiff, Wales, and United Kingdom. She obtained Masters in International Law and Diplomacy from the University of Lagos and Masters in Business Administration from Duquesne University, USA. She is a Member of the New York Bar. She was formally the Legal Officer, Continental Merchant Bank Limited, Lagos. An Adjunct Professor in Finance, University of Florida, Miami, USA, Onyemelukwe was a Senior Special Assistant to former President Olusegun Obasanjo on Small and Medium-Scale Industries between 1999 -2003. A partner, Ekwueme, Ekwueme & Ekwueme Solicitors, she is a practising lawyer.
Also, get acquainted with the story surrounding her birth: "My parents had me after eight years of waiting but that did not mean that I was pampered. By age 15, I was sent abroad to study. They (my parents) were very strict and would not suffer fools. I was at the Queens' College, Yaba, Lagos after which I went abroad. Then, younger children than me where in boarding schools abroad and their parents were at ease with the idea. In fact, I didn't know what it means letting go of a child until my son went to a boarding school and I cried ever day for a month! I worried about what he would eat, his clothes, his friends and all sorts. But I now realized God is the best caregiver a child would have and not fussy parents. Though good parenting is good, we should also learn to let go at certain points of these kids' lives."
The family is from Nnewi north local government area of Anambra State. Does that mean she is business-oriented like people from that area? She laughs and says: "I am not a business person. When I was schooling abroad, my friends would buy various items home to sell during the holidays. Again, they would buy items from Nigeria to sell abroad whenever we resumed. Interestingly, one of them advised me to engage in such trading and when I gave it a try, I ended up giving out almost all the items! I just don't have the knack for business but I love what I am doing as a lawyer."
Happily married, she reveals her husband to be a pillar of support.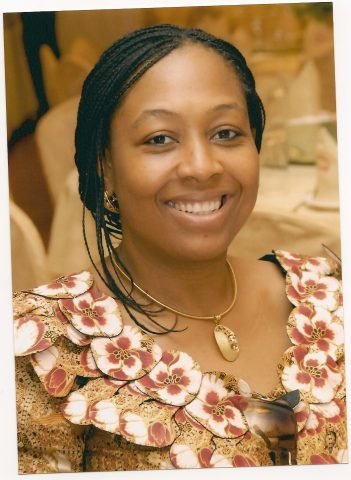 "A woman functions well in her chosen career when her spouse encourages her and approves of whatever she is doing."
Remind her that women go the extra mile to achieving success in a this male-dominated society and she adds that: "Though this could be a biased statement because I am a woman but I believe that women are more focused in decision-making than men. If you have a woman in a position of authority, she is more creative, she does a lot of multi-tasking. It makes no difference if it's a man or a woman running a place. I even think women are great decision-makers. Usually, we are not distracted by unnecessary things outside of the given assignment."
"But I believe we would break the glass ceilings someday and it is already happening. Everywhere in the world, it takes a little push for a woman to get anywhere. You have to be competent; you have to do it well. In a world where competition thrives, there are many people who can do whatever you are doing better, so when you are opportune, you should do it well. You need to be the best even at home."
But some privileged women like her must have enjoyed the influence and affluence of their parents, didn't she? "That you are the daughter of a very important person does not make you the best at what you are doing. There should be room for merit and outstanding performance. You have to make continuous improvement because having influential parents would not get the work on your table done. If as a woman, you are not good at what you are doing, you are getting nowhere! From childhood, I have always loved reading and there is nothing I don't read. I had parents who believed you must be the best at whatever you do and they would not expose you to unnecessary luxuries.
So, how can a woman juggle all aspects of her life and still remain a success?
Her answer: "My family is my first constituency and anything that would not allow me give my best to my family is relegated. I worked abroad and there was a time I had to stay at home because there was no way I could have juggled my family and my work together at the same time. I was determined to breastfeed my kid at least in the first year and I did despite my schedules. Really, such experiences allow us more strength and we are purified as gold. Gold must go through fire. If certain factors were not against us, we probably would sit down and be doing nothing. But when you have to do so many things at the same time, you would not be docile. But when you are a sister, a mother, wife, and a daughter and much more, you learn to multi-task.
On fashion, the pretty mother would tell you that she dresses for comfort. "I like what makes me comfortable and I would not have cause to have headache on what I am wearing. I don't like loud colours and I am a little tilted to the conservative way of dressing."
Her diet? Anything special that makes her skin radiates? "I love sweet things but I have to work extra hard not to be fat. I am not a make-up person, I don't have any strict beauty regimen but I try to eat right and drink lots of water. Also, I am not a fussy eater."
Onyemelukwe loves to sing, dance and travel at her leisure. Mind you, she still cooks for her husband despite her busy schedules. "The notion that career women don't keep homes is a lie! It depends on the individuals involved. Some women, who don't have careers and sit at women, could be worse than the nine-to-five career women. There are still many career women who recognise who they are, recognise who the man is and play their roles effectively at home. This is where the driving force is applied. God's word, which is my driving force, tells me that the husband is the head and so it is," she concludes.