The end seems not to be in sight on the crisis rocking the once-enviable marriage of ace comedian/movie producer, Ayo Makun aka AY comedian.
Married to beautiful interior décor, Mabel, there was uproar on social media on June 12, 2017 when Mabel dropped a comment on a post shared by her husband.
The photo, which was a selfie taken by AY and Freda Francis during Freda's Push Party in Lagos the previous night, must have triggered some memories in Mabel.
Freda used to date music act, Iyanya before the affair packed up and she is said to be currently engaged to a Nigerian-American living abroad.
Well, Mabel wrote in the comment section: "This is outright wickedness and I won't take it!" (sic)
Shock. Could this have been AY's wife commenting on his post?
Before that could be absorbed by followers, she wrote again, "I think have had enough of the ridiculing. Freda Francis, stay away from my family and I mean it!" (sic)
Then, Mabel went ahead to her Instagram page and posted munched chats between her husband and Freda Francis.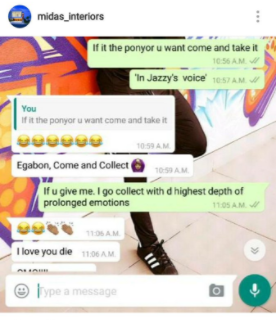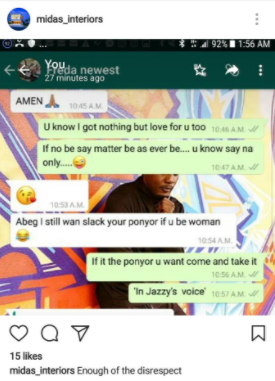 Surprisingly, everyone thought Freda, who is Iyanya's ex girlfriend, was Mabel's friend.
Just as the story went viral on social media, some fans and followers begged AY to pull down the post but he hasn't.
Some close friends of the couple disclosed to Kemiashefonlovehaven that Mabel's 'unruly' action annoyed her husband who moved out of the house to another location in Lagos. Many friends have also made efforts to settle the 'crisis' but AY is adamant on teaching his wife a lesson.
"I don't really blame AY. The dude was busy campaigning for his latest work, '10 Days In Sun City' and just five days to the premiere, his wife accused him wrongly on Instagram, a public platform! That was awful!
So many negative comments abusing AY, are still on that post and AY isn't ready to pull it down. If Mabel had a score to settle with AY, her husband why didn't she do that privately? If she didn't like something Freda did, she could have gone to Freda's place and sorted it. She was a very good friend to Freda," one of AY's friends, who craved anonymity, said.
AY and Mabel Makun got married in 2008. They met on campus as undergraduates at the Delta State University. The union produced a daughter.
For a couple that has come a long way with each other, it's expected that this incident should not crash their union. No, not ever.
At the June 17 premiere of the movie, '10 Days In Sun City,' Mabel was present. Dressed in white/black ensemble, she was the cynosure of eyes.
But AY and Mabel did not stand for photographs together on the red carpet. This wasn't the practice between the couple especially AY who loves to flaunt his pretty wife.
Post-event activities are ongoing currently and AY has been reposting some celebrities and all they wrote on the movie. Tiwa Savage; Chika Ike; Sonia Ogbonna; Yvonne Jegede; Banky W; Osas Ighodalo-Ajibade and others have had their photos reposted on AY's page.
Mabel's hasn't featured or reposted on AY's page despite the fact that she also put up some campaigns on her page for the movie.
Thanking all that attended the event, AY posted on IG:
"Just want to say a big thank you to everyone, including the cast and crew who attended the premiere of 10 DAYS IN SUN CITY. I will never count my blessings without people like you who give me all the more reason to be grateful to God almighty on a daily basis. You have opened my eyes into knowing that the good things in my life outweighs the not so pleasant things that poses as a challenge or distraction to me. While i reflect on being a better person, i want to state that I am also loving all the positive reviews given to the movie so far. Who God has blessed no man can curse. #10daysinsuncity #InCinemasNationwideJune23." (sic)
What more? Nine days after the controversial photo (Freda's Push Party) was shared on AY's page, the comedian has refused to pull it down. Already, it has generated over 16,000 Likes and over 700 comments!
May God save all celebrity marriages!