Her label has not only become a favourite among celebrities, it boasts local and global presence on the runway. Lanre Dasilva Ajayi as a brand has showcased locally and in international shows such as the Thisday Africa Rising Festival, London; ARISE Africa Fashion Festival, South Africa (June 2009); the New York Couture Fashion Week; the Mercedes Benz Fashion Week and the London Fashion Week to mention but a few. In February 2013, the brand made a debut at the famous retail store of Dolce & Gabbana, in Milan, Italy. She speaks to KEMI ASHEFON in this interview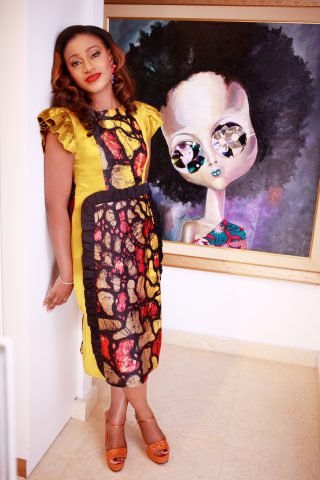 Growing up, did you nurse any dream of being a haute couturier?
From a tender age of 5, my mum recalls that I will often handpick the clothes I wanted to wear that were fashionable and clothes I wanted her to buy for me. I guess these were the early signs that showed my independence and freedom with clothing. My strong passion for the fashion industry has always been evident to those closest to me; however it took a completion of my degree in Business administration from Coventry University and Masters in Finance from Leicester University in the UK before I embarked fully to pursue my passion.

How did that happen?
Upon the completion of my degree in Business Administration and Masters in Finance from the UK. My strong passion for fashion has always shown through. Before leaving home for higher education, I had the basic knowledge of sewing through my mother who had insisted on me knowing how to make the very simple items of clothing for example an apron. My mum was a huge influence. She has a natural confident and amazing taste. So, I did not actually study fashion but attended short fashion courses while I was living in the UK which further led to my strong passion for vintage clothing. I loved going to Portobello market in London and the London Vintage Fashion, Textile and Accessories Fair at Hammersmith, it was something I did frequently and I think that further developed my passion for fashion designing. Fashion has always been a part of me, so it was easy to transform my passion for the industry into a full time career.
Was there any resistance from parents on the choice of fashion?
My parents supported my decision from the get-go which made it easy, having family support definitely helped in my decision-making.

What aspect of haute couture is your label known for? Evening wear? Bridal? Casual?
I do a mixture of both formal and casual wear. I enjoy designing the formal wear more as it is tailored for more elaborate events and show more couture which the LDA brand is all about.
How have you been able to balance your time between work and your home?
My husband, Mr. Adekunle Ajayi, gives me tremendous support which makes it easier for me to strike the balance between my home and work. Spousal support makes the journey of life easier especially when it has to do with career goals. I have enjoyed that and we are blessed with two children Siji and Keji. Also, grandparents are extremely helpful to us in looking after the children. This in turn, enables me to plan my time well with work and meet all my commitments. I thank God for all these.

How was growing up?
I grew up in a loving closely-knit family. I come from Popo Aguda, Brazilian Quarters of Lagos Island in Lagos State. I am the first born of three children: Tope and Femi. My late father, Sir Leo Babarinde Da Silva worked under the civil service and retired as the Secretary to the Lagos State Government. My mother, Lady Gladys Yemisi Da Silva worked with the United Bank for Africa before going into her own private business. Whilst growing up, my mother insisted on us knowing how to make the very simple item of clothing, she was a huge influence.