This is not the first time the singing duo would engage in messy fights on social media.
Pathetic? Well that's the feeling of most of their fans who are getting worried on the cause of the recent quarrel.
First, suspicions that things had gone awry cropped up when Paul and his wife, Anita welcomed their set of twins in the United States and no congratulatory messages or visits from Peter and his wife, Lola.
Then, the twins started sharing some posts on social media: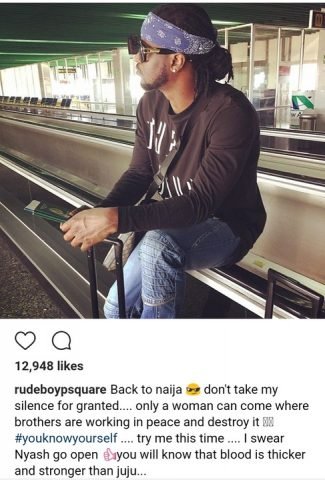 Many people on social media are accusing Peter Okoye's wife, Lola Omota


yo for being responsible for Psquare's rift, it even got worse when Paul specifically said,
"Only a woman can come where there's peace and destroy it."
But Lola took to Instagram to explain that she is a love being and not given to hate.
She wrote:
"Good evening my lovelies….please leave footprints of kindness and love wherever you go. Love is the only way and peace of mind is the ultimate goal in this life of ours. Hate has no place in my world, never has, never will..Have a blessed evening!
#preachlovenothate #superwoman #thankfulnomatterwhat #humilityisthenewsexy #Godblessusall #proudlynigerian #proudlyrussian #proudlyafrican #proudlyyoruba" (sic)
On Wednesday afternoon, Peter Okoye confirmed the dancing and singing twins are no more. He shared a video where he revealed himself as Mr P and that he would be preforming alone come Sunday September 23 in the US.