Just as Ooni Of Ife's new queen, Mariam Ogunwusi is happily settling down in the palace and planning her grand wedding which takes place this October, there is pandemonium in the family of former queen Prophetess Naomi Ogunseyi.
The former queen who unceremoniously left the Ooni of Ife, Oba Enitan Adeyeye Ogunwusi and announced her separation from him on December 23, 2021, seems to have realized her mistakes and wants to return as the Yeyeluwa of Ife.
She has desperately been running from pillar to post asking for forgiveness from the highly revered monarch to return her to her lost glory.
But the Ooni is not ready to have her back in the palace.
"Silekunola Naomi has bungled a lifetime opportunity that can never be regained," sources exclusively told Kemiashefonlovehven.com.
The former queen, who has refused to drop the royal surname Ogunwusi, initially put up an affront on social media against the king and ethos of Ile Ife.
Though her Instagram profile still boasts her former position as queen, she was painting the picture of being a victim of abuse to her large followers who constantly hurled insults at the king.
The former queen, who has become an Instagram celebrity since her marriage to the king in 2018, put up her antics again some weeks ago when she took to Instagram and shared a post that she was assaulted and harassed by a Deputy Commissioner of Police at the Assistant Inspector General of Police Zone 17 in Akure, Ondo State. She also granted an interview to BBC on this issue.
But it was later discovered that her brother Gbenro allegedly swindled some contractors who were working on a project which belonged to the Ooni and Gbenro Ogunseyi was put in charge. They decided dragging him to an Akure police station in order to retrieve their unpaid funds from him
However, Naomi quickly posted it on Instagram with the intention of making the Ooni appear as the unseen finger behind her family's ordeal. She also stated that her brother, Gbenro was harassed because of her.
"So, why is she begging the Ooni to accept her back? Why is she asking him to forgive her? Now that Queen Mariam has become the official Yeyeluwa? Maybe she forgot that her feet were swept off the palace and can never enter the palace again," royal sources disclosed.
Meanwhile, the Ooni of Ife is set to have the mother of all weddings this October as he officially weds his new wife, Mariam. Already, the new queen and her family members have been sending aso ebi (party uniforms) to friends and associates who will storm the event.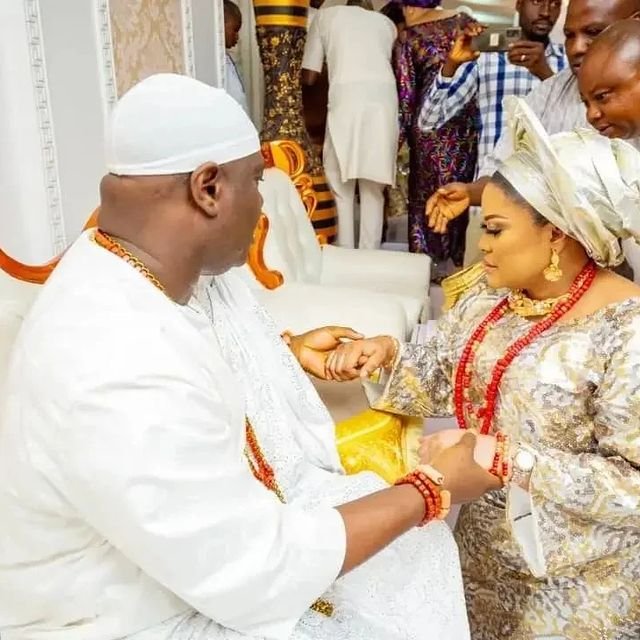 "Kabiesi has found a better replacement and he is not ready to waste his breath talking about Naomi and her antics or that of her family. He is done with her but will perform his fatherly role in the life of their son, Tadenikawo."