Veteran Nollywood actress and evangelist, Liz Benson-Ameye has revealed to married women when to take a walk from their marriage.
The actress, whose daughter, Lillian gave birth to her first baby since her wedding in 2017 opined that it is ideal to quit your marriage when the union becomes excessively violent such that it poses a risk to life — irrespective of the 'for-better-for-worse gospels'.
She shared her two cents while responding to questions about divorce and child sex education on 'Mercy's Menu', a talk-and-cook show hosted by another Nollywood actress, Mercy Johnson.
Although she stated that no marriage is a bed of roses as all are plagued by tempting challenges that should be approached with perseverance, the 53-year-old TV personality favoured the need to take a break and be alive while trying to salvage a union marked by violence that cannot be cultured.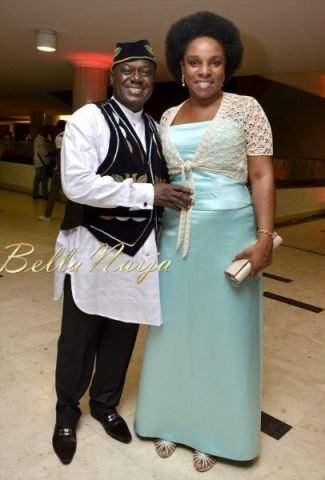 "You would have to take into cognizance what had been before the marriage, the events that have unfolded before the marriage. When you add them up to that point in the union and it doesn't yield positive signs, then I think you have to call it a day," the veteran actress says.
"Some would ask 'Why is she talking like that? Marriage is supposed to be for better than for worse.' Yes, for better for worse. But, when certain things come into play — violence that cannot be cultured or stopped. Then I think it's better to get out, stay somewhere and be alive than to be in there and lose your life.
Married to Bishop Great Ameye, the couple currently run a ministry called Freedom Family Assembly. Revealing that she is more fulfilled as a minister of God than an actress, Liz Benson-Ameye admits the transition was one she was not prepared for and thus she put up a feeble battle before she succumbed to the calling.
If you are surprised at this, then hear her: "The calling of God is real. Initially, you begin to fret, you look at yourself and begin to ask yourself questions like, why me? Am I really worth it?' But thank God for His mercies! The truth is, God can decide to use anyone at any point in time, the most important thing is to submit oneself. After battling with it for a couple of years, it just dawned on me that I needed to submit myself and that is exactly what I have done."
Proffering reasons for resisting the call initially, she explains with a hint of determination in her voice: "Although it was a welcome development, I was used to a particular kind of lifestyle and here I was going to turn my back on all that I had been used to and embrace a new life devoid of all the vanities of life. When I got the calling, I knew I was special and that is why He chose me. Since then I have not looked back."
Settling into her new role was even made easier by the people she met who encouraged her.
"I was not treated differently because I was a famous face. I don't think I am the first person who has been through this path. I know there are many people who have got a similar call but they have not just been able to really follow it through. I know some who are musicians but who now run very big churches. Outside of the Nollywood industry, I know professionals who have answered that call. People are just so glad for the fact that I have been able to see the light. Everybody was happy for me," she says.
Quite satisfied with her new life, she goes on to say that, she does not miss anything from her former life and wished she had taken this bold step earlier.
"There is nothing whatsoever I miss. Instead, I wish I had known the Lord before now. I have no regrets because I am positive that the path I have toed is what God has prepared for me and whatever mistakes I have made in my past remains in my past and I was meant to make those mistakes . I have gathered from them because mistakes are experiences which you grow with. You are also wiser because you have been tested."

On how she met her husband, she recalled:
"I met him in his hometown, where we live now. I went to evangelise there. It is something that is very rare and some great men of God have told me that it is something that is rare to find who has been in the ministry meeting another person who has also been called by God and both of them are really strong in it. I just thank God because marriage has been wonderful. We have our challenges but we never let it stay past two minutes and we are done with it. We are two young people together and you can imagine us coming together so what best can you do but to be joyful? We take everything in the strides of maturity."
"As you can see, it's been wonderful staying married to my husband. I am glowing. It looks like we have been married forever when.
We are like teenagers in love and I am enjoying every moment of it. I am grateful to my heavenly father and he has also given me a wonderful man who helps make it happen. I don't have any beauty routine. Maybe before, I used to but not anymore. Now people tell me I look better than I used to," she says.