Her name is Becky Enyioma, an Igbo single mum of two who lives abroad.
She seems to love life and currently wants to share the remaining days of her life with a man.
So, she posted on Instagram that she wants a husband.
Becky wrote: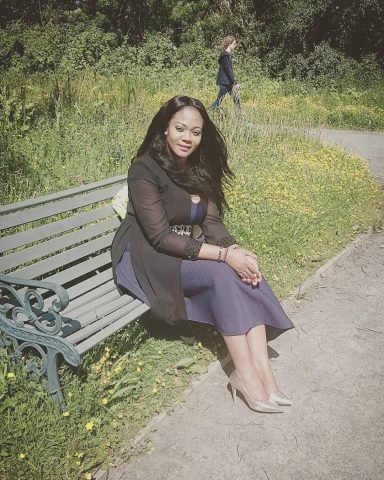 "It's official. Preferably Igbo cause no energy to break cultural barriers. Must be tall. I can't deal with short guys and their complex issues…soryee. Age between 40 and 45. I don't need boys claiming to be men. Real men or get smacked down! Must be working. Have his own. No baby mama dramas cause I can't deal. No born again fakeness either. I booze now and again and dude has to booze with me. Lol. Should be a once-a-month night out. Dinning out now and again. Loves to travel. Loves to read. Loves cars. I don't need any guy with brain the size of a tennis ball cause he'll get electrocuted before he comes ten yards close. Signing off. Baba Jah noni. ???"
Then, the 'men' bombarded her page. While some wrote negative words, many asked that she be their wives.
Then, a guy asked why her specification was for men without babymama issues.

He said:
@i_am_pedroaz "Saw this on one blog and said let me confirm wether you really posted this….A man single at 40? Must be a fool at 40 no debate…then a baby mama but don't want a man with baby mama s really funny…I think you should just accept who you are..No man is meant for you, just move on with your life, after all you are doing good for yourself.." (sic)
Becky responded:
"Read and understand. Don't make up your mind before you read. I wrote that he must NOT HAVE BABY MAMA ISSUES. Meaning, I don't expect a man of that age not to have children. But, he must not have issues with it. ISSUES here meaning PROBLEMS. This is why I prefer mature guys. They would understand my post very well."

This is wishing Becky all the best in her search.