This
is not the best of times for delectable
music act, Tiwa Savage. She and her husband Tunji Balogun had made headlines
since Thursday when the husband spilled some outrageous facts about their dying
marriage. Tiwa responded 24 hours later accusing him of infidelity, irresponsibility,
financial misappropriation etc.

Fresh
facts have emerged that the arrival of Baby Jamal might have partially caused a
setback in the marriage. According to some of her friends and fans, since she welcomed
her baby, Tiwa has been overjoyed and shifted all her attention to her tot,
Jamal.
In
fact, in a recent chat (before the TeeBillz media
sensation

),

with Saturday
Beats,

the entertainment page of

Saturday PUNCH,

Tiwa
admitted that she diverted attention to her child but then she didn't allow the
love she has for her husband, TeeBillz to wane.
"Initially
when I gave birth to my son, the attention naturally shifted to Jamal because
he would always wake up every two hours as such, you have to give him all the
attention. Child birth may make your sex life not to be interesting any longer
and it may change your sex life. You may have stretch marks in places you don't
like but eventually for the sake of your marriage, I would encourage
every woman to look after their husband as well especially after having a
child.
"My
husband and I have always been very good friends before marriage and we are
still good friends. You have to know that you are living for someone else in a
marriage so you cannot make selfish decisions. For example, if I need to make
any important decision in my life, I need to consult my husband because he is
the head of the family. Ultimately, I need to give him that respect because he
has the final say," she said.
However,
she admitted in the video interview which she granted yesterday to Pulse TV
that her husband, TeeBillz has never spent a kobo on the baby's upkeep since she
had it. "He has not bought diapers or food for our baby," she said.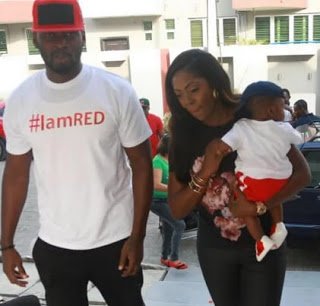 She also revealed that she
never knew TeeBillz had a love child. The grief-stricken diva revealed: "Before marriage, I didn't know of his third child in Nigeria. A lot of
people warned me about him, but I am going to say I made a mistake. At the
beginning everyone says you can't leave the marriage because our culture frowns
on it. I made a mistake, do I have to wait ten years, 15 years?