In the home of billionaire businessman, Julius Rone, the chairman of UTM Group, it is joie de vivre. His stunning wife, Utibe Rone clocks 40 today, 27th December, 2017. As Utibe adds another year to her enchanting life, the pert, blue flame of joy burns through her pretty frame; brightening her world and burnishing her persona with irrepressible shine.
The beautiful mother of 3 lovely boys is beside herself with joy for being privileged to witness yet another glorious addition to her inspiring days.

Curiously, however, at 40, some women are like sapphire, they glow as the brilliant blue gem thus colouring the world with their craft. Some are sassy as teens and cute as amber studs. Some are like coral clasps-pretty yet disposable. Amidst the glitter, Utibe is an emerald cut.
Julius was made for Utibe. To Utibe, it probably feels like she had him ordered and delivered to her, to be worshipped and revered. On this note, it may be said that Julius is Utibe's idol. And this is where it gets interesting; Julius also considers her a boon from God. The wealthy dude treasures her like a priceless heirloom – this explains his predilection to flaunt her like a sapphire-studded wristwatch or buttonhole bouquet to the world.
No doubt, Utibe was and still is the mysterious woman of his dreams, the angelic muse that inspired and still invigorating his ardor, leading him everlastingly into the Eden of unparalleled love. With her, he suffered no false protestations of love and blissful companionship.
Their love was neither a performance nor a jailhouse thus Julius and his heartthrob felt no pressure to break out of a literal or symbolic prison of lust and unrequited love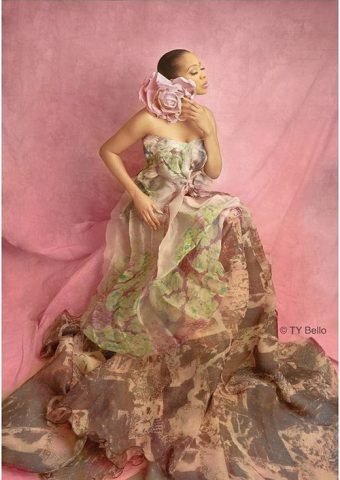 Utibe is owns Yutees, the much-talked about fashion house in Abuja. Gifted with a physique and psychological balance not a few people would die for, she has evolved from the proverbial silver spooned kid to a full-fledged, self-driven entrepreneur with astounding diligence and sartorial depth.
With Yutees Collection, she has carved for himself, an enviable niche in the hub of high fashion. And Utibe lives her trade, adorning luxury pieces from head to toe. Soft-spoken but charming, the sociable and very resourceful clothier has a knack for producing comfortable and enthralling exclusive apparels that has become the vanity of women of distinction in Nigeria's high society.
Thus with determination, she forges ahead driving the reins of her pristine modernist temple. There is boundless quality and uniformity in Yutees' designs. The clothier's bespoke designs betray her immeasurable depth and affinity for the precise – which makes her remarkably different from her competitors. Utibe claimed that her unique selling point is the quality of her crafting of the garment.
Talking to Utibe is indeed, an interviewer's delight. Her dazzling smile is a sign of things to come because the first thing you notice about her is her teeth: pristine white, impeccably straight.
She apparently cuts the picture of an independent thinker, one with the courage, faith and intuition to forge her own way. In business, she is ready to take calculated risks; care less about bottom lines and more about ideas and innovation; and is quite intent on bettering the world along the way. She has made extraordinary contributions to the Nigerian fashion industry through her creative designs and capacity for client satisfaction.
Source: The Capital