Since 'peacemaker', Kemi Olunloyo could not settle warring actresses, Toyin Abraham and Liz Anjorin, many rumours have filtered into town on how Liz Anjorin is getting all her 'revelations' on Toyin Abraham, her baby's birth and happenings in her marriage.
Anjorin had last week said Toyin opened multiple Instagram accounts to troll her.
She also alleged that Toyin leaked damaging reports about her to blogs.
In some videos released on her page, Lizzy had also accused Toyin of giving birth at a trado-medical centre in Lagos and not abroad. She also said Toyin was not given the umbilical cord of her baby because she didn't pay her bill.
She accused Toyin of living a fake lifestyle eon social media when she is poor, dirty and evil.
"You even slapped your mother-in-law a few days ago," Lizzy also said.
On Monday, lawyers representing Toyin Abraham wrote to Anjorin demanding a public apology for accusing Abraham of cyber-bullying. Even Lizzy's lawyers have written to Toyin's.
However, not many were surprised when recently, a blogger fingered Nollywood actress, Nkechi Sunday as the snitch.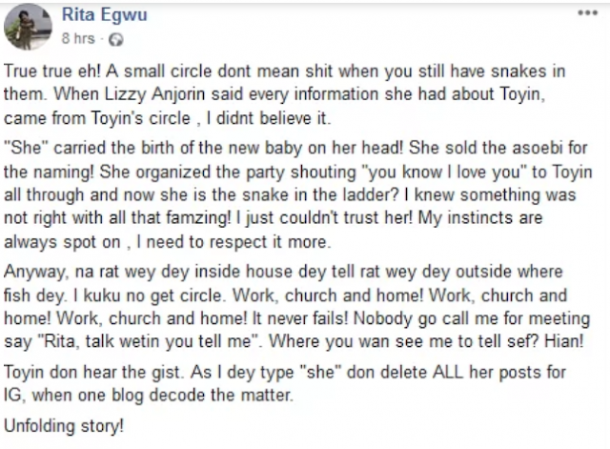 In fact, many were astonished when recently vivacious Nkechi deleted all her posts including her 'endorsement deals' and claimed she wants to be like her friend Toyin Abraham who also deleted her posts when she wanted to announce her marriage to Kola Ajeyemi and even her baby's arrival.
Well, Nkechi Blessing denied the rumours of being a snitch and also explained why she deleted all her Instagram posts and said only God would severe her friendship with Toyin.