With the recorded proceedings of her bride price refund and the annulment of the traditional marriage to Olakunle Churchill, actress Tonto Dikeh is insisting she paid the bride price from her purse!
This, she disclosed in a response to one of her fans who queried her on why she said she paid the bride price.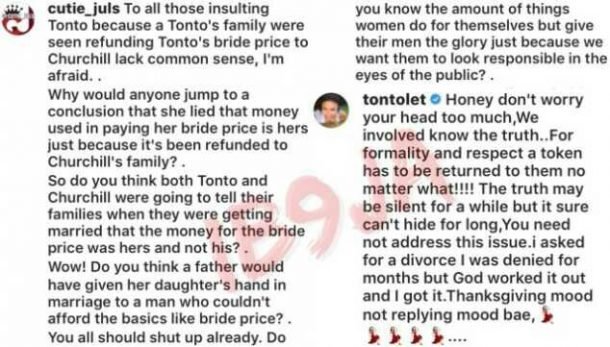 Not only that, Tonto, mother of one, has been in a thankful mood for the dissolution of her barely two-year-old wedding that crashed in December 2016.
A week ago, Tonto Dikeh revealed in a leaked text that she paid her bride price herself.
However, earlier this week, her father revealed, in a meeting of the two families—Dikeh and Churchill— recorded on video and shared by Media Room Hub, that Olakunle Churchill fulfilled all traditional requirements and paid the bride price.
Therefore, the Dikeh family returned the bride price to the Oladunni Churchill's.
Tonto Dikeh's estranged husband was said to have requested for the bride price he paid on Tonto Dikeh.
Churchill's uncle, Bishop Dare, met with Tonto Dikeh's father, Chief Sunny Dikeh in Port-Harcourt to collect the bride price.
This action simply meant that the two families have annulled the traditional marriage between Tonto and Olakunle.
In the video, the annulment letter of the traditional wedding between the Churchills and the Dikehs was presented.