Famous online journalist, Kemi Olunloyo is many things rolled into one— a journalist, clinical pharmacist, and well versed PR specialist.
For sundry reasons, the unapologetically controversial Olunloyo who is a proud mother of three speaks to MediaRoomHub magazine on life at 55
Excerpts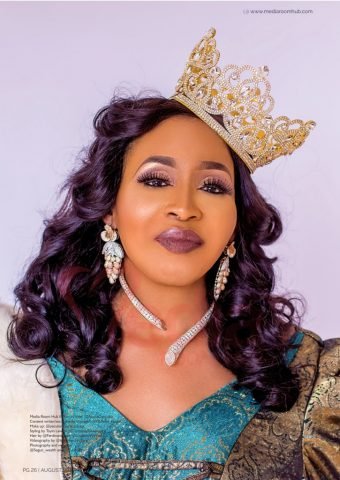 How do you feel about clocking 55?
I feel good. I feel great. Thank you, Azuka Ogujiuba and your team. Thanks to Toyin Lawani as well for this gorgeous outfit she made for me. So I feel great at 55 even though I look 35, I feel 55. My sex drive is high, I think it's what happens when you are in your fifties. I'm no longer celibate, I'm looking for the right man.
How long were you celibate?
I was celibate for 10 years. Between 2006 to 2016. It has to do with a lot of the stuff I went through with female genital mutilation. You don't have sex drive.
Didn't you feel horny at times while you were still celibate?
I used to use sex toys. If you google my name and sex toy you will see. I have been talking about sex toys Since I got down from the plane in Canada in 2012.

Do you think Nigerians use sex toys?
Of course! We even have lawmakers now slapping people in sex toy shops. Sex toys are great and safe. Some people say it beats the real thing, others say it doesn't but personally I think it depends on who the real person is.
Who is the lucky man in your life?
I am actually single and searching. I am looking for a man from Owerri, Imo State. He must be rich. My man must be rich. I must be able to sit down , put my feet up, the maids, the driver and all the servants working hard and I am on the internet all day. My meals come to me. This is what I want at 55.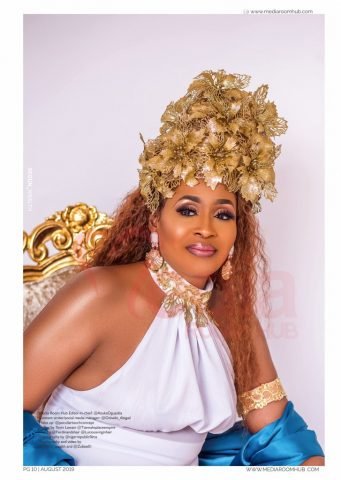 What's your favourite sex position?
Doggy style. It is the best. My father is a mathematician and I always talk about mathematical sex positions; 34, 69, 71 etc. But doggy style is a really good sex position, most Nigerians don't know it. The man is up and the woman is down there, having it from the back. Sex is great but people don't know how to explore it. You make a man cum, moan and all that stuff.
There are allegations that you were paid by COZA Pastor to defend him, is this true?
If I was to be paid, like how much do you think the Pastor will pay me as an investigative journalist? Wouldn't that be like 50million or 100 and above? Wouldn't I have a car parked outside right now?
So why did you take the story seriously and decided to defend Fatoyinbo?
I took interest because the case can make me some money on social media. Again because clearly there are loads of lies and organized behaviours and I decide I was going to investigate.
First, Timi Dakolo said he didn't know his wife was raped until in 2018. Timi didn't report the case to the Police instead he went on Instagram to shade the pastor first. Their story didn't add up. Timi is very manipulative. I asked him for an interview with his wife he posted my number on social media. Nobody remembered that, all they remember is that I posted Timi's address.
All Timi is trying to do is bring the pastor down on behalf of somebody else or trying to extort the pastor for his personal gains because his wife, Busola is not in this game. They organized a press conference and Busola the alleged victim didn't talk, Timi did all the talking. Hopefully when the police investigation is over I'll interview Fatoyinbo.
Pastor Paul Adefarasin of House on the Rock has not done very well too. He is Timi and Busola's Pastor.
Pastor Adefarasin, you are the Pastor to a couple with rape issues glaring in the news, you are supposed to call them and talk to them. Counsel them. Why hasn't he done that?
Pastor Lanre of House on The Rock, Port Harcourt, I listened to his sermons and he was shading Fatoyinbo. What's going on? I am investigating and this might be an issue between COZA and House on the Rock and not between COZA and the Dakolos.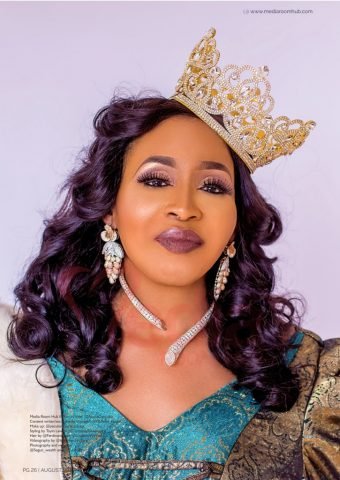 Police sources told me that they might dismiss the whole thing because they don't have evidence. But I think Timi is behind the whole thing.
Do you feel there was no rape or consensual sex?
There was no consensual sex. There was no rape. Busola's story didn't add up. There was no timeline. Fatoyinbo is going to be exonerated.

Have you ever been sexually molested before?
Yes, when I was eight years old. One of my dad's students came to the house and fondled me in 1973 in Ibadan. I was sitting with the house girl who was taking out my hair and the uncle asked the girl to go and get bread and he just put his hand in my private part and I was like oops! It actually felt good though but then after it happened I looked at him and I said nothing. But every time he came to my house since that incident I just gave him attitude. But I told my mum last year about it finally after 46 years.
So I know the stigma of keeping things like that.
Another incident happened when we ran into a riot along Ikorodu road, myself and my brother who became paralyzed as a result. He was eight and I was 13. I ran out during the riot and I was naked on Ikorodu road on April 28th, 1978. All the guys around wanted to gang rape me, but a man just grabbed me and ran into a house. So, a woman in the house bathed me and dressed me up. The next day I just saw myself on TV that there was a missing girl. I really want to teach girls about these stuffs that are wrong.
Are you a feminist?
Yes, I am. I joined the global feminist movement last year because I am a global journalist and because of the #MeTooMovement. The #MeTooMovement gives sexual abuse victims a voice.
As a mother of three boys, how do they feel seeing you being dragged on social media over stuffs you post?
My kids are proud of me. They love it. My older kids can't even stand Nigerians. They haven't been to Nigeria and they always say how can they go to a country that powers banks and airports with generators and then the issue of Boko Haram is there?
There's been a rift between you and Iyabo Ojo recently, are you two back to being friends again?
Iyabo and I have never been friends. Where Iyabo came in was when we linked her to the case that made me go to prison.
Iyabo, I have never wished you bad. Our issue is over. It is well. My birthday is next week, please come around let's party and eat. I will hug you, I am a child of God. I have forgiven you Iyabo. Seeing Iyabo around me and we go on a live video so the fans know we are at peace, that can even heal my PTSD.
What about your social media fight with Davido?
My son David. I know this boy way back. I babysat Davido. Davido and his girlfriend Chioma were not talking and he locked her Instagram account in October 2018. They were not talking because they broke up. I posted it as a reporter and you took it out on me and disgraced me before 9million people on Twitter, my followers and yours by telling me to go and oil my pussy. What you did was wrong, I felt bad but I have forgiven you. Learn from it all, I have forgiven you.