American Tennis player, Serena Williams has just made the cover of Vanity Fair.
The mother-to-be shares her pregnancy journey with the magazine.
Excerpts: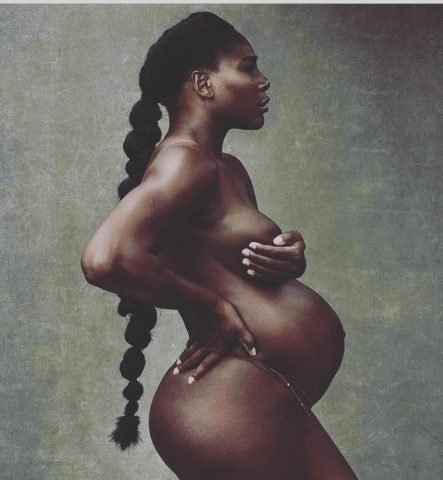 It began to unfold roughly a week before the beginning of the Australian Open, in Melbourne, last January, not that anyone would have known. After playing poorly in her first match of the year, in which she felt she had missed too many backhands, she went to the practice court and for two and a half to three hours hit 2,500 of them, by her estimation. If she missed one, she started over. She did roughly the same the next practice day.
But she felt a little different physically. She had unexpectedly thrown up at one point and her breasts had enlarged. She thought it might be hormonal. But her friend Jessica Steindorff immediately suspected something else and suggested a pregnancy test. Serena thought it was ludicrous.
Jessica worked on her for two days until Serena relented, and so Jessica went to a pharmacy and bought a pregnancy kit.
"I'll take it just because (a) to prove you wrong and (b) because it's fun, whatever. It's like a joke. Why not?"
That Friday, as Serena was doing her hair and makeup for an event sponsored by the lingerie company Berlei, where she is a spokesperson for its line of sports bras, she took the test in the bathroom. "I put it down. I went back to finishing hair and makeup, was laughing, talking. I was getting the styling done. An hour and a half later, I went back to the bathroom and I totally forgot about it because it was impossible for me. . . . So I went back to get dressed and I went back in the bathroom and I was like, 'Oh yeah, that test.' "
Jessica shrieked in delight at the results. Serena, as she put it, "did a double take and my heart dropped. Like literally it dropped.
"Oh my God, this can't be—I've got to play a tournament," said Serena. "How am I going to play the Australian Open? I had planned on winning Wimbledon this year."
But never underestimate the Serena Stubbornness, as legendary in certain circles as her first serve. Beleaguered Jessica went back to the hotel pharmacy and bought five more test kits to further convince her.
Test No. 2: Positive. Test No. 3: Positive. Test No. 4: Positive. Test No. 5: Positive. Test No. 6: Positive.
Why Alexis Wanted To Marry Her
April 2016
The day of his birthday, April 24, Alexis went to the Carousel Restaurant in Little Armenia in Los Angeles with his grandparents. Serena and he FaceTimed. She was calling to say happy birthday, which might not sound like a big deal but was because she is a Jehovah's Witness and part of the religion is not to celebrate birthdays. She was doing something she normally would not do, reaching beyond, telling him on the phone how wonderful their lives together had been.
Alexis knew then he wanted to marry her, not simply out of happiness or compatibility. She was helping him become the best version of himself because of her own work ethic and focus, with millions watching and the expectation of the public that she should win every time, what Serena herself described as carrying "three pyramids" on her shoulder. He thought he worked hard—it is part of the romance of high tech that everyone works 18 hours a day and then curls up under the desk for a few hours' sleep with their laptop as teddy bear and pacifier—but he realized it was nothing compared with Serena.
"I felt like a door had been opened to a person who made me want to be my best self. . . . I find myself just wanting to be better by simply being around her because of the standard she holds."