This was the rumour in February and we all thought the pretty actress would have gotten married by now.
Still basking in the euphoria of her birthday celebration by friends and colleagues, many are wondering why Rita Dominic has chosen not to be married before her birthday.
Though she admitted in an interview last year that she would not be forced by societal pressure to get married, there are indications that the actress would get married to her lover, who she has kept his identity from the public.
Rita Dominic's fiance is from the South East of Nigeria, sings and dances to her tune/tone and treats her like the queen herself is treated.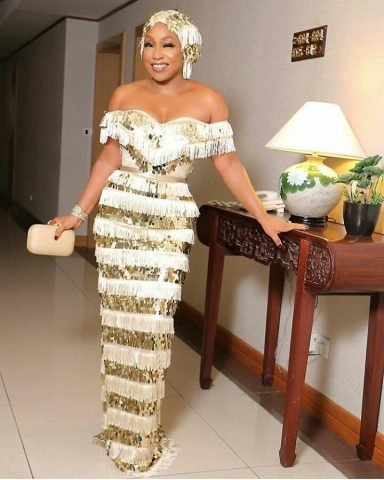 He is said to be a well-connected businessman and owns a publishing/Entertainment platform.
Rita has not been so lucky with guys especially one that would walk her down the aisle.
Recall that she revealed in an interview on TV that she almost got married but called it off.
She said: "I almost married someone. We were there. We were at that point. It didn't work out and I'm happy it didn't work out because I saw the signs.
"You know how you see the signs and you just ignore it hoping the person will change. Look, a grown man and a grown woman cannot change. They can find a way to live with each other and respect each other's feelings, but to change a grown person is difficult."
Admitting to have fallen in love with a man but lost out, Rita, while speaking during a television programme, 'Your View' on TVC in 2018, revealed she was happy the marriage did not work out.
The pretty screen star said when in a relationship, couples should at best find a way to live with each other, instead of trying to change negative traits, adding that a grown man cannot change.
When asked by the TV host, Tope, that as Africans, "we feel that a woman's success isn't complete until she's married and with children, that what has been the pressure concerning being married and why hasn't it happened?"
The Mbaise, Imo state-born actress said: "At the end of the day, if I'm going to do it, i'm doing it for myself not that the society wants me to do it. I always will still say; I will marry the man of my dreams and not the man the society dreams for me.
"Society feels there's something wrong with you if you're a certain age and you're not married. What if it's the society something is wrong with? For forcing someone to do what they don't want to do?"