Even as celebrity marriages break down on a high rate in Nollywood, star actress Omotola Jalade-Ekeinde is counting the blessings of her early marriage and how it has helped her successful career.
In an interview with Premium Times, Omotola, whose marriage to Captain Matthew marked 21 years in March, thanked God for getting married at 18 and still in the union.
Did marriage boost her career?
She replied, "Absolutely. It's one of the biggest blessings of my life because I look back now and I am like if I wasn't married then, will I be married now? I can understand that as a celebrity it is hard, really hard, to get people who really love you for who you are and not because of the image of you that they have in mind. So, I can understand what some of my colleagues are going through because it's not easy. Having said that, marrying my friend, a very wonderful, powerful man, who is confident of himself, has helped me. It has allowed me have that stability and be able to go out and fly."
In the new movie, 'Alter Ego,' which she starred with Wole Ojo, Omotola, mother of four explained that some sex scenes were downplayed in the movie because she was married. Was her husband uncomfortable with some of the sex scenes?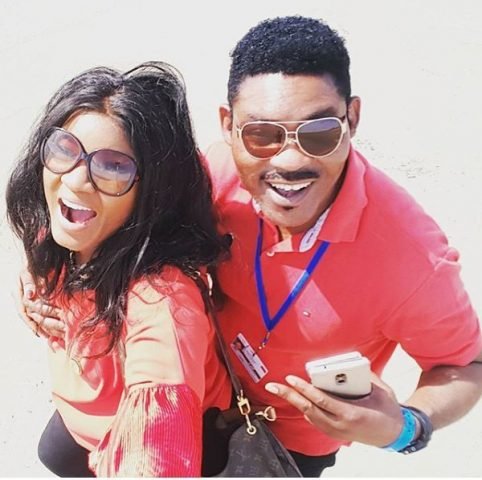 Omotola said, "I tell my husband, 'You know what darling, you married an actor.' Secondly, he is my biggest fan. I tell him, 'Do you want me to be great or do you just want me to be good?' He will say, 'I want you to be great, sparklingly great.' Then I'll say, 'Ehen, we go love o' and he's fine with it. He understands but just like every other human being and the professional that he is, he too wants to be convinced that I played a sex scene because it was necessary. I know when he watches movies sometimes he would say, 'Did they have to kiss if they were not going to kiss well?'
Some of the sex scenes in Alter Ego were downplayed because I'm married. But I won't play the sex scenes if it wasn't necessary to be included in the film. I know by starring in this movie that my fans would either hate me or love me forever. While shooting the film, I knew I was doing something quite risky. There are several ways to shoot a sex scene tastefully. I'm all for playing a sex scene convincingly and my husband knows this.
On how she built a perfect on-screen chemistry with Wole Ojo in 'Alter Ego,' the charming actress revealed that "I was working with Wole Ojo for the first time, so we had to spend time together and we played very rough. I understand the power of being friends with your love interest in a movie so we became like a couple. We ate together and basically just broke down the walls to make sure we were both comfortable with each other and have each other's backs and interest at heart. So, it spilled into the movie without you even noticing."