Everyone calls him Olaiya Igwe, but his real name is Ebun Oloyede. He is regarded as the Igwe of the movie industry. He has paid his dues. He has put in 45 years. So, he is a veteran scriptwriter, actor and producer who has produced so many great movies until a few years back when his N52 million movie was pirated and that has been a big setback for him.

How has it been maintaining your brand over the years and you are still relevant in the industry?
I feel so happy and excited. Though at times, I still feel bad because of the country I found myself; a country that doesn't appreciate artistes; a country that doesn't see artiste as somebody they need to appreciate or recognized; especially by our government. We are just trying, patching everything up, but we still have to thank God. If by now I have a jet, or you point to a jet and they said it belongs to Ebun Oloyede, I deserve it considering my input so far.
I formed my own theatre group; Olaiya Films Nig. Ltd., in 1979, about 40 years ago. It is very difficult for me to say I want to celebrate 40 years on stage because of the present situation, but like I said, I still have every reason to thank God, at least I'm still alive.
You keep looking young and younger, what is the secret?
I don't know how he's doing it. At times when I look at my contemporaries, I see them older than I am. Seriously, I see it like an act of God.
Are there any specific things that you do, like routine, what you eat or exercise to keep fit?
I was born in the village, Mogan in Abeokuta. At the age of 5 my mum took me to Oke Koto in Agege, Lagos, and then later returned me back to Abeokuta. Why am I saying this? I enjoyed a lot of natural things in the village especially food and fruits. Probably, I was given some herbs too that makes me look young always (laugh). I did not regret living, growing up from the village. The only thing I regret is the tribal mark.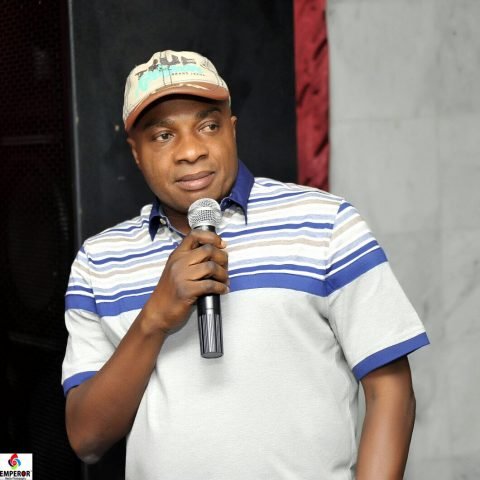 Why sir?
Tribal mark is not a culture. It is an uncivilized act. It is not a DNA, because as at that time they believed it is Yoruba DNA. It is very easy to recognize one another outside that you are from the same compound, but who told them that I belong to their family or part of their family? It is only my mother that can tell if I belong to the family or not. What if my pregnancy belongs to her concubine, but she brought it to my father? Which is very possible then, and there was nothing like DNA test to check the true paternity of a child then. Look at our father, Alaafin Oyo, a very handsome man even with his tribal mark, though some of his children have tribal marks, but what about the grandchildren? None of them has a tribal mark. That is to tell you that tribal is not our tradition, it is not our culture, because if it is, somebody like Alaafin Oyo should keep and promote the custom till date because he's our father. If it is our culture then it shouldn't have disappeared from the palace; it shouldn't have been erased from the palace. It is purely an act of wickedness. Thank God for civilization that completely erased it. If it is something important or part of our culture, all my 7 children should have it because I have it.
Was there any moment you regret having a mark in your journey in life?
Everyday! If it is part of our culture I might not feel bad. There are so many shenanigans done by our ancestors, forefathers that people think it is part of our culture simply because they were uncivilized. I will continue to say it, if it is that important we would have seen Alaafin Oyo keeping, nurturing it till now.

Everybody calls you Igwe, how did that emerge?
I was crowned the king of theatre from Obafemi Awolowo University. I was amazed when they gave me the letter in 1996, and I went to Ile-Ife in the company of my boys my manager then, Dimeji Ijaduade. Jare Adeniregun, who was a product of the school also joined us. We got there that day, but they postponed it because they wanted Wasiu Ayinde to come and play, but he was not in the country so they postponed it. On that same day, Oga Bello was given Evergreen Actor. Latin received it on his behalf. They said I'm the king of theatre because of my film "Ebute" Lots of people were in that hall that day, Clarion Chukwura, Dele Odule and many others. All my bosses, Oga Bello, Uncle Jide Kosoko and many of my colleagues agreed that I am the king of theatre. But my own king is different, why because if Oga Bello calls me today that he wants to send me somewhere, I will rush there like a housemaid. Because they said I'm the king of theatre doesn't mean, or make me the master. I have my masters and I respect them to the core.

What year was that?
I got the letter in 1996, but they did it in 2003/2004. That was also the time I produced "Abela Pupa".
How Many movies have you produced till date?
I've done a lot. I did Iru Eshin, Agbegilere, Ebute, Pakute, Abela Pupa, Oore, Square One Meaning B'okorokun, Adiitu Isokan, Osan Gangan. They are so many. I can't even mention the television series.
Which one are you working on now?
I planned to produce a movie titled "Fila", but I've changed my mind to do it later because I want to talk to Nigeria through that film but we are still working on it. The movie "Fila" which simply means Cap, will address so many things. There are some of our leaders that we still remember the style of their caps till date like late Awolowo. What will people remember for? That is the content of the film. I'm also doing for another story to talk to the nation.
When was the last time you produced sir?
In 2018, I did "Aditu Isokan" I produced it both in English and Yoruba, not lip sinking. We had a separate script for each language. We shot it simultaneously; as we were shooting Yoruba, we were shooting English. I spent 52 million on the project. I wasn't the owner of the whole money; somebody gave me like over 30 million and the rest was my money, but I gave the whole glory to the person that supported me.
Spending such amount on a movie, how did you plan to get your money back. Was the business that lucrative then?
I have a problem with that particular script right from the outset because it's a religious film. If you want to produce a religious film in this country, you must think twice. You have to go back to the history of Adebayo Salami when he shot 'Asewo To Re Mecca" you must go back to history of Jide Kosoko when he shot "Amina Eleha". I had a lot of spiritual attacks when I shot the film, but like I used to say, I thank God. It got to a stage when we were shooting that we couldn't continue with the project. I fell sick. I travelled abroad, but I came back to the country to treat the sickness for about 4 months. Sen. Remi Tinubu also assisted me; she asked me to go to Ayinke Hospital to meet late Dr Nurudeen Olowopopo and I started receiving treatment. She also volunteered to send me out of the country, but unfortunately, Dr Nurudeen died and I didn't have the opportunity to see Sen. Remi Tinubu again, but with the little treatment I had received I was able to return back to the location and completed the job and released it in 2004. The day I released the movie somebody said they would pirate the movie, I said no because I thought I've coded the master and they couldn't break it, but on the 3rd day they called me from Oshodi that I should come and see plenty of fake copies of the movie "The Misery Of Unity" "Aditu Isokan". On hearing the news I collapsed. I was hospitalised for months before I travelled out of the country with my son. Before that incident, I was leaving big. I have like 4 vehicles, Lincoln Navigator, Honda Legend, V.Boot and a bus. Today I'm using only one car but I'm contented and thank God.
SOURCE: City PEOple