Known to have kept her cool on social media, many colleagues, friends and fans were taken aback today when Nollywood actress, Bimbo Akintola took on some trolls on Instagram.
The actress had put up a picture of late Moji Olaiya and announced why she could not turn up for the burial on Wednesday.
Moji Olaiya, a Nollywood actress died on May 18 in Canada and was buried on June 7 in Lagos.
Bimbo wrote:
"Sun re. I could not attend your burial because of work but I will never forget you. Your gentleness, your smile , your beauty , your talent , your laughter. I will cherish the memories of you I have, even though We had not seen each other for a while you always were in my heart. Rest in peace Moji #gonetoosoon."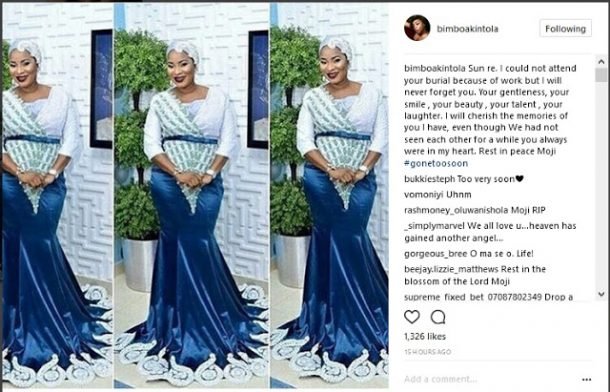 Just as many commiserated with her on the loss of a dear friend, some trolls rebuked her for not showing up and this conversation ensued among them: