Alhaji Kazeem Adeoti aka Adekaz has been in the news in the last 24 hours.
A Nollywood movie marketer, he runs Adekaz Productions and IBAKA TV.
But his business profile isn't why he is in the news currently.
He is celebrating his birthday today January 24, 2022 and his new wife, Nollywood actress, Mercy Aigbe has unveiled him as the new catch in her life.
Just as she has been celebrating her new marriage to the businessman, she has made it known to everyone that she is enjoying peace in the relationship.
Taking to Instagram, she wrote:
"Alhaji and Hajia Kazim Adeoti 😍❤️Still celebrating you my King! May you continue be celebrated all the days of your life! Thank you for being my Peace, My Happiness ,May Almighty Allah continue to bless your path and uplift you beyond your imaginations 🙏🏽🙏 cc @kazimadeoti @adekazproductions.Tonight we turn up." (sic)
But Mercy's ex husband, Lanre Gentry put up a post on Sunday on Instagram insinuating Adekaz was a family friend?
"No, never! He was never his (Adekaz's) friend and they had never spoken except when he (Gentry) attended Adekaz 40th birthday party in 2013 and everyone who mattered in the industry was present. Mercy wasn't dating him then and she wouldn't have gone to a lover's party with her husband. Go and check the album—everyone took photos with Adekaz and his wife Funsho. Why is Mercy and Gentry's photo special now?" sources revealed to Kemi Ashefon.
Why Adekaz Married A Second Wife
Adekaz and Funsho got married 20 years ago in the US. A licensed Mortgage Broker, Adekaz decided relocating to Nigeria to start up a business in movie productions.
According to sources in the US, who were close to the estranged couple, problems started with the idea of relocation.
"He came with his wife, Funsho who later went back to the US, saying she didn't want to stay in Nigeria. The marriage was on till the wife, Funsho refused coming over and her husband kept pressing for her to be around. He told her point blank that he would marry another wife if she didn't return as agreed. Well, she didn't and there was a strain on the relationship.
A good father, Adekaz still carried out his duties as a father and would pay school fees and foot other bills over there. Funsho can never say that he neglected her because she was the one adamant on not returning to Naija," sources exclusively told Kemi Ashefon.
With a strained relationship, the couple knew the marriage would hit the rock as long as the wife stays abroad.
But Funsho came to beg her husband in 2021 and even persuaded him to celebrate her birthday with her. That was when they took the couple photos six months ago.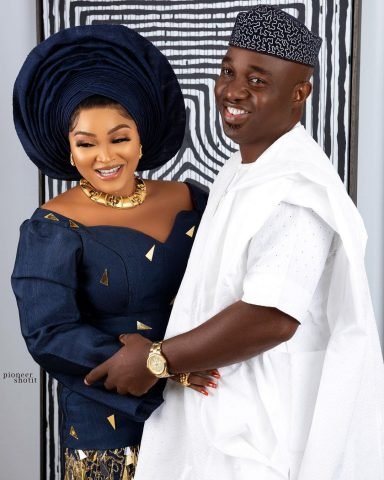 "Yet, Adekaz kept telling her to return permanently here but she disagreed. He told her he would remarry and she wouldn't tell the world this marriage to Mercy was a surprise. Why is she playing the victim and vilifying her husband on social media? Why is she proving that she was betrayed by him? Would she deny travelling to Naija and not getting in touch with her husband who would call her phone incessantly and not get a response?
Funsho knows that her husband is a peace-loving man and would not want trouble. Why didn't she return to stay with him here in Nigeria?
That Adekaz married Mercy doesn't mean they had been dating since she was in Gentry's house. So, why did Mercy sent a birthday message last year to him with the caption, 'Happy birthday sir'?
If Funsho really wanted her marriage to work she would have returned many years ago. But she was in Minnesota. Their firstborn is in a private University in the US with her father paying the fees. Their other kids are also not abandoned. Adekaz is a Muslim, he has every right to marry more than one wife," sources said.