The 15-year old son of Nollywood actress and Evangelist, Eucharia Anunobi, Raymond Ekwu, is dead.
He was her only child.
The teenager was confirmed dead on Monday August 21 and suffered from complications associated with the sickle cell disease.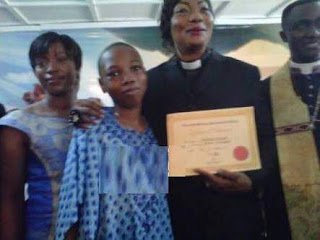 The late teenager, Raymond was the only product of her marriage to ex husband, Charles Ekwu, who walked away from the marriage some years ago.
Just as condolence messages are conveyed to the actress who is now a vibrant evangelist, another actress, Remi Oshodi aka Remi Surutu who also lost her daughter on July 2, 2017 to sickle cell anemia, sent a condolence message to Eucharia Anunobi.
Remi Surutu wrote:
"My thoughts and prayers are with you Eucharia Anunobi on the demise of your Only Son, a sickle cell anaemia carrier, who left at a tender age of 15.
Having realized that he was a warrior, I feel your pains. I can imagine the extent of your love and sacrifices for him.
__
Eucharia, you gave him all the best a mother would have given an only child whom she loved sooo much that she can do anything for him.
May God grant you the strengths to bear the loss. It's not easy,but we shall overcome. God is with us.
May his gentle soul rest in Peace." (sic)