As the world's richest celebrity couple, Beyoncé and Jay Z do nothing by halves – and that includes the imminent birth of their twins.
It has been revealed that the couple are shunning a traditional hospital delivery room and are instead turning their Hollywood mansion into a £1 million private maternity ward.
Medical equipment including incubators and 'an entire professional neonatal wing' has been shipped into the couple's £100,000-a-month rented property as they plan the ultimate in home births.
Vans full of high-tech kit have been seen arriving at the mansion over recent days, suggesting the due day is fast approaching – even though Beyoncé has been uncharacteristically shy about exactly when the twins are expected.
A neighbour said: 'It is all about privacy and safety. It's not usual for someone expecting twins to have them at home, but Beyoncé has discussed it with her doctors.
'She's in prime physical condition and they are setting up a professional maternity unit inside the house for the birth. There will also be an ambulance on standby to take her to Cedars-Sinai Hospital should she or the babies need hospital care.
'Jay Z can be seen going in and out of the property but Beyoncé is lying low.
'There are food deliveries and service vans arriving all day.'
Installing the medical equipment at the £20 million nine-bedroom house – which once belonged to Madonna – should avoid a repeat of the row which broke out in 2012 when Beyoncé gave birth to her daughter, Blue Ivy, in New York's Lenox Hill Hospital.
Other patients complained to the media about Beyoncé's large entourage, claiming they had been unnecessarily 'heavy-handed' and obstructed visitors.
However the hospital later insisted no formal complaints had been received, and also denied reports the couple had spent $1 million renting out an entire floor.
During the birth of Blue Ivy other patients complained to the media about Beyoncé's large entourage, claiming they had been unnecessarily 'heavy-handed' and obstructed visitors.
The source added: 'Beyoncé and Jay Z were upset by that negative publicity at what should have been the happiest time in their lives. They are determined not to repeat that experience, which is why Beyoncé wants to give birth at home this time around.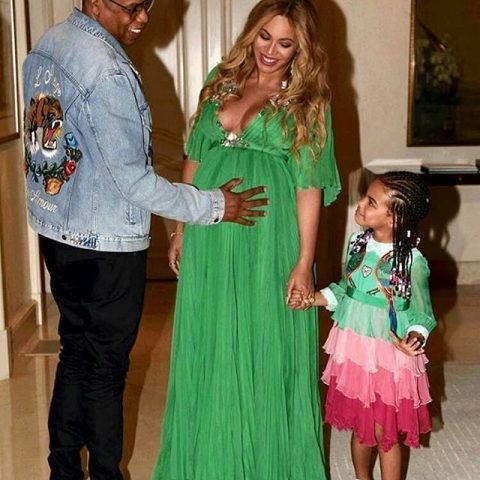 'Of course, she has a team of medical staff advising her and, should her doctors say she needs to move to hospital, then that is what will happen.'
Cedars-Sinai, famed for its luxurious birthing suites used by celebrities including Catherine Zeta-Jones and Kim Kardashian, is less than a five-minute drive from the mansion where Beyoncé, 35, and Jay Z, 47, have been living.
The singer announced she was expecting twins in February, telling her 103 million Instagram followers: 'We have been blessed two times over.'
Since then, she has proudly shared pictures of her bump growing bigger, but she has not posted any updates since May.
Wealth magazine Forbes last month named Beyoncé and Jay Z as the world's first $1 billion showbusiness couple, with a combined worth of $1.16 billion (£900 million).
Beyoncé did not respond to requests to comment on her birth plan.
Source: DAILY MAIL