Today is her 37th birthday. As part of her celebration, Mide, who is married to Afeez Abiodun aka Afeez owo, splashed some of her new photos on Instagram.Her fans lapped it all!
She looked stunning in this dress.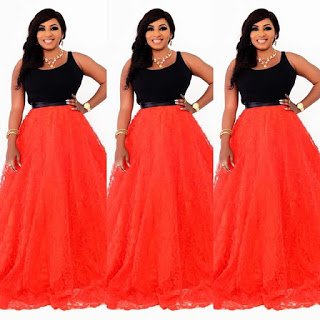 Still on her love life, the daughter of late actress Funmi Martins relieves her over 13-year-old marital bliss with KemiAshefonlovehaven.blogspot.com.


" It has
been splendid. We started a year after my mum died and to God be the glory,
things have been going on well between us even though we do have quarrels which
is expected of couples. The good thing is we are always able to resolve our
issues amicably."
Asked how she met him and she said,
"He was my mother's manager before
she died and he is someone I have always known. After her death, he stood by me
and assisted me with all the jobs she left behind since I did not know much
about the film industry then. He was the only one left to assist me and we
started dating."
"Of
course, it sounded strange. I used to call him Brother Afeez and when he
initially came up with that idea, I asked him if he was okay. I did not even
think it would be possible because I saw him like my brother and we were very
close. Initially, I told him it was not possible for us to become lovers but
with time, I saw some qualities in him which I admired," she said.