It's
not strange to have actresses befriend one another—it's a given. Some, who are
best friends, are seen attending high-profile events together and making
headlines with their activities—good or bad. But not Nollywood most
sought-after actress, Mercy Johnson-Okojie.

She does not have friends in the industry.
Married to businessman, Odianosen Okojie, she
reveals why her husband remains her only friend:
"I
don't have friends at all and Odi is my best friend. We have acquaintances but
no close friends. As a policy, I never lie to my husband and that is why I
can't hide anything from him," she said.
According
to the dark-complexioned actress, an incident that happened shortly before their marriage in 2011 made her realise she had no friend.
She shed more light: "It was a test of
the strength of my love for Odi. Then, I did not lose any friends because I
never really had any. I got to understand the mindset of people who believe it
is hard for you to be happy for someone when you don't have what they have. They
criticise what you have, yet they pray everyday for it. It taught me to always think
of myself first because people will always have opinions."
For Odi, the husband of the 'Baby Oku'
star, their meeting was love at first sight.
He
said, "Yes, it was. I realised in no
time that she is homely and everyone who comes in contact with her just loves
her. Right from the very first time day I met her, I already knew she was going
to be my wife. I am very reserved and my instincts never fail me. She is
a fantastic role interpreter as well."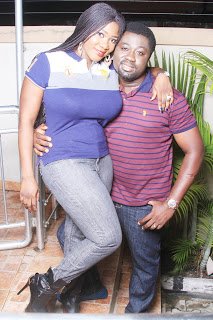 Meanwhile,
Mercy fell in love with his amiable personality. She recalled:

"I love his personality and I am in love
with everything about him. A few months after we met, I loved everything he
stood for as man and he was different from everything I am used to. I began
looking forward to seeing him."
Even after three children, the marriage
which was solemnised on

August 27, 2011,

still waxes
strong. Little wonder Mercy said, "When I compare my life prior to meeting him,
I just wake up in the morning, peck him and say thank you and he may not
understand why.

I might have made a lot
of errors if I hadn't met him."