She had been on an all-time low for a while.

Not even her 40th birthday on May 27 could make Bimbo party with friends.
But over the weekend, the mother of one, who is a Nollywood actress was out on a partying spree with best friend, Bisola Badmus.
Sharing her photos on Instagram, gaily dressed, Bimbo seems to be getting set for the jet lifestyle of an actress, she used to be.
Obviously, she had laid low for reasons best known to her.
While many thought it had to do with rumours of the betrayal from Nollywood actress, Mercy Aigbe who was alleged to have snatched her ex husband, Lanre Gentry, from Bimbo, many thought Bimbo's last marriage made her calm down.
But the 'lead' character in the Mercy/Lanre Gentry 'drama' Bimbo Akinsanya, has denied having any affair with Gentry.
Attributing this to the work of detractors, Bimbo Akinsanya said in an interview with"
"I was shocked when my attention was called to the post that I was once married to Mercy Aigbe's husband. That's absolute lie. I only met the man about 14 years ago when we were filming in his office, and I was not the only one.
"Since, I never met him. I didn't even know him well until he married Mercy. So, I don't know how and where they came across their story. How can some bloggers sit at the corners of their rooms and be fabricating lies against another person without calling that person to confirm the tale or rumour about what they heard about the person? Have they called me or Gentry to find out whether we have ever dated let alone married? That's malicious. I think those behind the stuff are only interested in maligning me.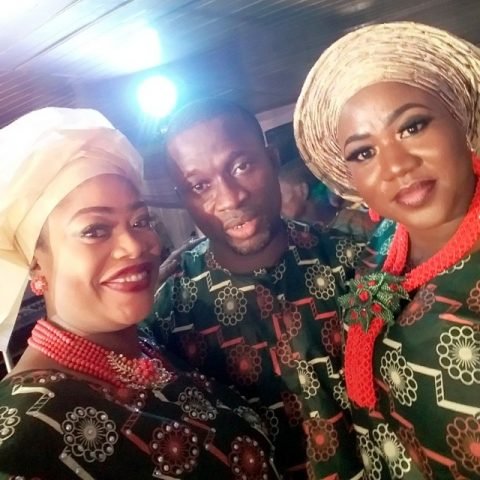 "To put the record straight, I got married in 2014. I got separated from my husband in 2015 when my son was just three years old. I have since remained a single mother. So, Gentry and I never dated let alone marry. Anybody in doubt is free to confirm what I said from Gentry himself or Mercy Aigbe. Some people are just being mischievous for peddling that kind of rumour."
She is currently a single mum and dotes on her son, Eyilayomi.