There is much excitement in the air as Ile Ife's crown prince, the Sooko Laekun of Ile-Ife, Prince Adegboyega Ogunwusi, prepares to marry his lover, Funmi Onabamiro.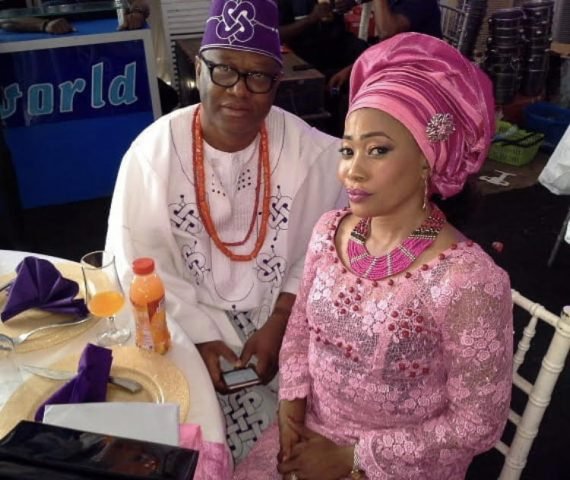 For the Oonirisa, who took another shot at marriage in 2018 when he married Queen Naomi, its also time to lead a powerful delegation from the ancient town to seek the hands of another pretty society girl, Funmi Onabamiro in marriage to his elder brother, Prince Abimbola Adegboyega Ogunwusi.
Even the bride-to-be Funmi has not been calm about her forthcoming wedding to the crown prince. Funmi, who is one of billionaire wife, Shade Okoya's best friends, keeps professing her undying love for the Oonirisa's elder brother, on social media spaces.
"She looks forward to becoming the second wife of the amiable businessman. She can't wait to be married to the Prince. Both have been enjoying a solid affair for over five years. In fact, the two are smitten with each other and are always in each other's company," disclosed some of the bride-to-be's friends.
However, sources claimed that her chances of becoming Princess Adegboyega Ogunwusi is being threatened by the icy reception she has been getting from the three Ogunwusi sisters— Folashade, Adeshola and Adebimpe.
The three, Princess Folashade, Princess Adesola and Princess Bimpe are sisters to the Ooni of Ife, Oba Enitan Adeyeye Ogunwusi. Their other brothers are Princes Adetunji and Adegboyega.
Prince Abimbola Adegboyega is the eldest of the children of Prince Oluropo Ogunwusi and late Madam Sidikat Abegbe Margaret Ogunwusi


The three sisters, who have a reputation of displaying an overt act of intrusion in their brothers' marriages and affairs, are alleged to have advised their brother against taking Funmi as a second wife. They are said to have disapproved of Funmi because they claimed she is over-exposed and loves seeking undue publicity.
Even though the icy reception she is getting from the three Ogunwusi sisters is said to be giving Funmi sleepless nights, she is determined to work hard towards making her love for Prince Adegboyega triumphs over the thorns of anger and disapproval, coming from her would-be in-laws.
Though married, Prince Adegboyega has always being a private individual. In the same vein, his first wife doesn't embrace publicity or seek media attention.
Sources disclosed exclusively to Kemiashefonlovehaven that the handsome prince and Funmi launched an impressive outing during the coronation of Ooni Ogunwusi in December 2015 after which the two lovers kept their affair on a low-profile scale.
However, the recent birthday celebration of Prince Ogunwusi, afforded Funmi with the opportunity to make public their affair. The party-loving lady literarily bombarded social media platforms with pictures from the pre and post birthday celebration.