The just concluded nuptial between Temidayo Teniola Abudu the daughter of prominent media mogul, Mo Abudu, and Adebola Teslim Imohiosen Makanjuola son of a renowned business tycoon, Chief Oluremi Muyideen Makanjuola, no doubt, is a society wedding.
From Lagos to the United States, it wasn't devoid of class and panache. So many celebrities attended and inundated our timelines with exotic photos of the ceremony.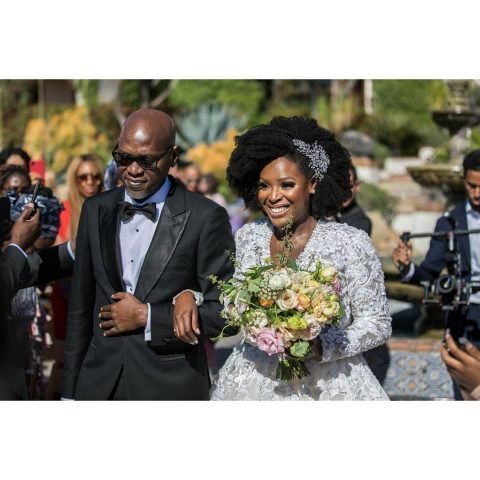 It is, however, curious that Chief Makanjuola was conspicuously absent at the wedding ceremony in California, US, choosing to show up only at the introduction ceremony held in Lagos.
It is popular knowledge that the groom, Adebola Makanjuola, is the love child to Chief Makanjuola; born to him of a love affair with his mistress Cassandra, who had hoped to take a more permanent place in his life as a second wife, but for Mrs Moyin Makanjuola, legal wife to Chief Makanjuola putting her foot down.
It is not surprising that his wife Mrs. Moyin Makanjuola, has over the years developed a tough skin and an even tougher method of dealing with the many women in her husband's life, as he is very known to keep mistresses amongst the upper-class society ladies. According to a source, some of his known affairs during his marriage have been with prominent personalities.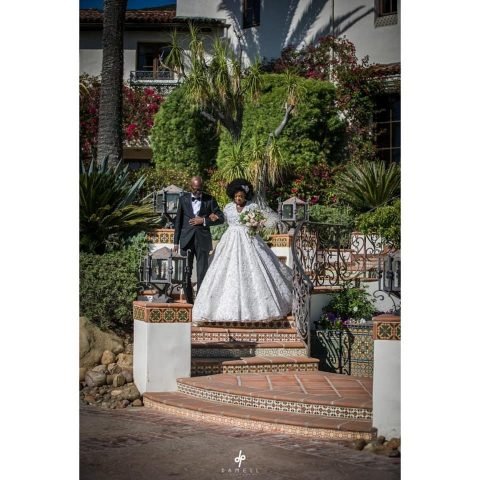 While Chief Makanjuola has done due diligence by taking care of his babymama, Cassandra and her son, he only seems to do the barest minimum, especially for someone with his social standing and influence.

It is left to reason that being blessed with three sons and a daughter from his legal wife, Chief Makanjuola has no emotional attachments to a son he never wanted from a woman he never planned to wed. After all, he had dated her Cassandra and other big society ladies who all happen to be friends.
Although Adebola, having his father's last name might open some doors for him, it is clear that it buys him no favors with his father, who did not even deem it necessary to sit beside him and his mother during his introduction ceremony in Lagos. Although Mrs. Moyin Makanjuola graced the occasion with her husband, presenting a united front was more than any of them could handle, choosing rather to sit apart and leave the groom with only his mother by his side.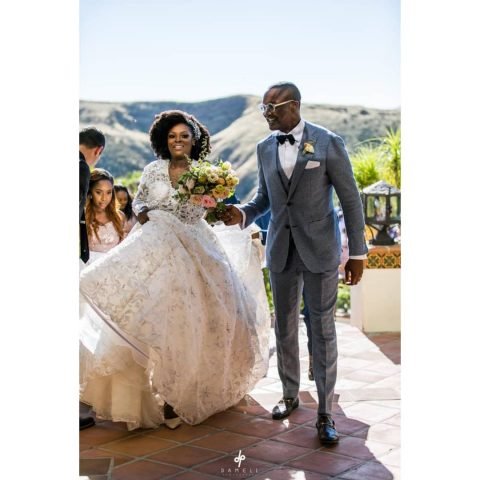 Many are alleging he was absent at the US star-studded wedding due to circumstances beyond his control which must have stemmed from pressure from his legal wife, Moyin.
Our source alleged that Chief Makanjuola spares no expense when it comes to looking after his mistresses, what with how lavishly he took care of one whose name starts with an alphabet used in addressing a number 2 citizen of a nation, during the almost 20 years they were together and how he has impressively smothered her other friends and even Cassandra with money and gifts, one would think that his philanthropic gestures would extend to his own flesh and blood. This is, however, not the case. Being absent from his son's wedding is one thing, but leaving him jobless is another thing entirely.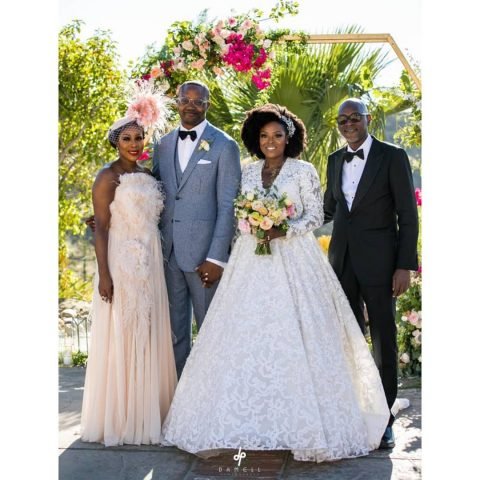 According to SOCIETY REPORTERS reliable source, Adebola, reportedly, was once a project manager with Visionscape, Lagos, since the dissolution of the company; however, he remains without any form of formal employment. Considering his father's lack of interest in his well-being, it might once again be up to Mrs. Abudu to secure a source of income for her new son-in-law.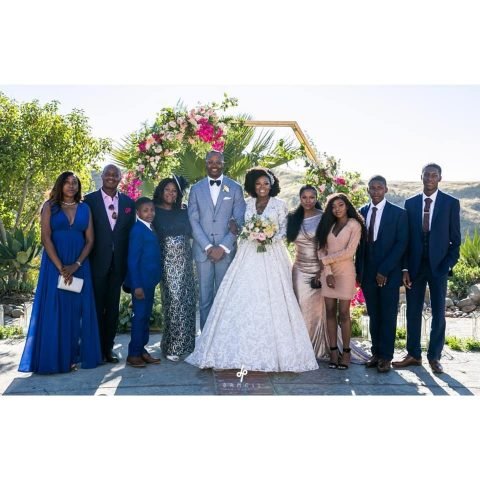 It remains to see what would become of the now wedded and highly educated Adebola Makanjuola, who holds a B.A in International Business/Trade and Commerce from the University of Portsmouth in the Uk, and an M.A in Global Business Management and Leadership from Regent's University also in the UK.

SOURCE: SOCIETY REPORTERS