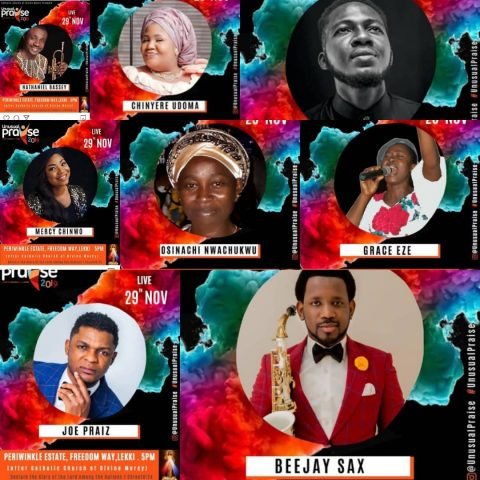 The annual Catholic concert in Africa, Unusual Praise is about to kick off now in Lagos.
The musical event, which is dedicated to spreading the gospel and love of Christ with a night of unforgettable praise and worship, takes place this evening at the Periwinkle Estate, Lekki Phase 1, Lagos.
Organised by the Catholic Church of Divine Mercy, the concert which features bigwigs in the gospel music industry promises to herald signs, wonders and miracles among Christians and non Christians.
Speaking to journalists at a press briefing, the parish priest, Catholic Church Of Divine Mercy, Lekki, Monsignor Nwaezeapu described the event as ' getting ready to bring down God's presence in the midst of thanksgiving."
"Its basically about thanksgiving. We want to thank God for all He has done for us in our parish, in the lives of parishioners and many more. I've kept saying during mass that its about givng thanks," Nwaezeapu said.
Also contributing to the theme of the event, Nathaniel Bassey, the popular convener of 'Hallelujah Challenge' said 'Unusual Praise' is praising God from the heart and bringing down His presence.
"Its praising God unusually and that means we are gathering together to bring down His glory," Bassey echoed.
Also ministering at the event are Tope Alabi; Panam Percy Paul; Big Bolaji; Akanchawa;Chioma Jesus; Bukola Bekes; Chinyere Udoma and many more.
According to the Parish Priest, the ultimate objective of inviting a large number of gospel artistes is to draw more souls to God.
"We want to reach out to the lost. We want them to give their lives to God, repent of their sins and also have testimonies of God's goodness in their lives. We want God to reign in Nigeria through praise," he reiterated.