Popularly called Bukola Arugba, many wondered why Nollywood actress, Bukola Awoyemi isn't legally married to Damola Olatunji, her partner and father of her twins.
The reason isn't far-fetched.
She 'snatched' Damola Olatunji, also a Nollywood actor, from his legally married wife, Raliat Abiodun-Olatunji.
Bukola, who celebrated the fifth birthday of their twins lately, went down memory lane and recalled how she had the twins and almost had complications.
She narrated, "Few minutes to 5years ago" i was told my pregnancy was high risk, everyone was scared, I was placed on bed rest and kept on close monitoring, I waited patiently at the hospital for the arrival of my God given twins , nothing could be compared to the anxiety that comes with having to wait to see some little -great glories wrapped up in your belly, the suspense is undescribable, being left to different imaginations of what they would look like , who they would look like and so on and so forth … This experience was /is one of the greatest experience of my life." (sic)
But Bukola Arugba never confessed that she had caused a woman, Raliat Abiodun Olatunji, much anguish. She had not only torn Raliat's marriage apart, she had taken over Raliat's husband, Damola.
On Saturday, April 8, 2013, Damola Olatunji was married to Raliat at the Ikoyi registry and then, the couple also had a customary wedding.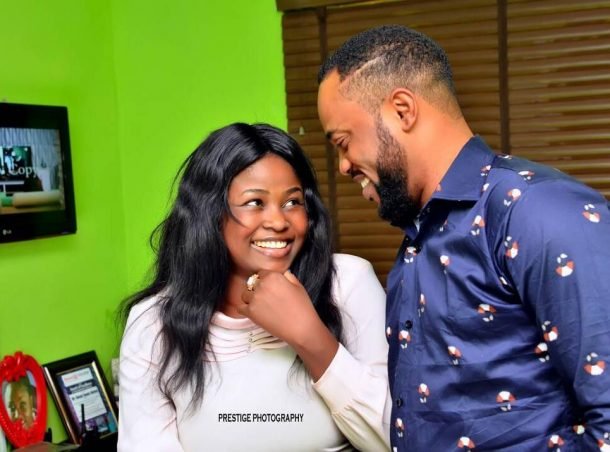 But the marriage crumbled before its first anniversary in 2014 amidst allegations of infidelity from Raliat, Damola's legal wife who was based in the United Kingdom.
Raliat Abiodun Sobowale fondly called Rally by her friends, exposed the love affair between Damola Olatunji and actress Bukky Awoyemi aka Arugba.
Then, Bukola Arugba and Damola Olatunji were in the news in 2014. Rumours had it then that they were lovers while Damola was still married to Raliat, who had gone back to the United Kingdom where she stayed, after their wedding to help secure documents for her husband to get a UK Visa. When she got wind of the affair between her husband and the actress, she didn't believe.
But she made an uninformed trip back to their Lagos home in Ajao Estate, and discovered her home had been torn apart by Bukola Arugba. A distraught Raliat did not meet her husband at home, attempted putting a call across to him on phone but the line was switched off.
After waiting endlessly for many days without seeing her husband, she inquired from neighbours and was told Bukola Arugba had taken over her husband and was even pregnant for him.
Though Damola denied this and discarded it as rumours to his legal wife, the marriage with Raliat hit the rock.
Bukola Arugba was to have her set of twins (a boy and a girl) on January 3, 2015.

Meanwhile, Bukola's late mum, who was a staunch Christian, insisted on having a low-key introduction ceremony to gradually formalize their union.
Till date, Damola's first wife has not conceded to a divorce and Kemi Ashefon gathered that she (Raliat) has moved on and dating a rich Nigerian who owns a record label in Lagos.
The couple—Bukola and Damola— remained unmarried but are live-in-lovers even five years after their betraying Raliat.
They are happy together and always displaying their love on social media.