This is the season to show the world that they are still happily married. It is also time to tell everyone that its well with their union.
The couple, who got married some months ago, set the Internet on fire when they shared photos of their Introduction/Traditional wedding ceremony in Ibadan.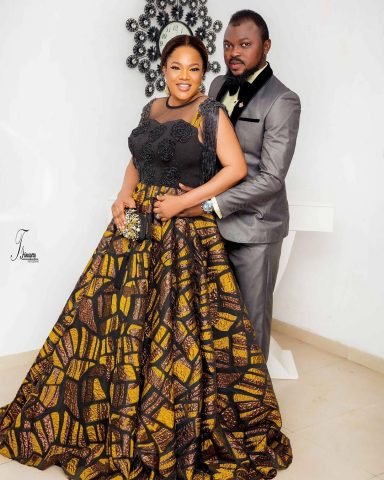 They also set tongues wagging a day after when they started sharing photos of Toyin's maternity photos on Instagram.
Toyin's new husband, Kola Ajeyemi, who she married after a divorce from Nollywood actor Adeniyi Johnson, has turned an Instagram celebrity overnight.
He has also found another love.
Always dressed in clothes he designed (he has a clothingline and makes men's haute couture)Kola is the new kid on the block who flaunts his wife and children at will.
He doesn't joke with his numerous videos and photos he keeps sharing to validate he is still with Toyin Abraham, his wife.
In fact, after Toyin Abraham, Kola's other love is Instagram!
He records all their activities on Instagram and recently had a video of embracing his wife while she cooked in the kitchen.
Kola's daughter, who he had before meeting and marrying Toyin, is also an Instagram freak.
Just like her dad, she posts everything about her father, her new mum, Toyin and new brother, Ire.
Kola Ajeyemi is one of the faces in the Abeokuta caucus of the Yoruba movie industry and a constant feature in Segun Ogungbe's movies.
Known to interpret roles either as a tout or assassins, not many were flabbergasted when Toyin posted his photos as her new husband.
This came after several denials by the couple. They told everyone who cared to listen that they were mere friends.
Sources revealed then that since she was yet to be properly divorced from former husband, Adeniyi Johnson, she kept both her marriage to Kola and subsequent pregnancy, away from preying eyes.
That's over now. The couple later blew the lid on their affair and made it public.
Meanwhile, Toyin's ex husband, Adeniyi Johnson is also married to Seyo Edun, another actress in the Yoruba movie industry.
Kola Ajeyemi, a former Abeokuta-based actor changed levels when he moved in with his new wife into Primewater Apartments, Lekki, in Lagos State, where they have been mingling with the high and mighty.
Sharing a new photo of them together recently, Toyin, who once dated a marketer, Seun Egbegbe, who has been in jail over a theft case, flaunts her new husband, Kola at every opportunity too.
"She wants to prove to all and sundry that she is now a happily married woman. Kola, who once dated some actresses such as Bukola Adeeyo and others, is also out to prove to all that he is also happily married in Lagos," a source close to the couple spilled.
"Kola, who has made Instagram his second home since he married Toyin is either posting his photos with Toyin, some of the photos he takes with his teenage daughter or any of himself and baby.
Though he is a celebrity husband now, many are praying that the marriage should last because he is trying too hard to prove he is married to a celebrity.
"Celebrity marriages can only stand the test of time when one of the duo in the marriage is out of the limelight. But when the two are struggling to maintain a 'showy' lifestyle on social media, the union falls like a pack of badly-stacked cards," a source said.
CC: OPERA NEWS
http://opr.news/s5f1c2fb2191128en_ng #OperaNewsHub