If fans thought the end of the enmity between Nollywood actresses, Toyin Abraham and Lizzy Anjorin is over, then they must be joking.
Its as fresh as dew.
This time, Lizzy called out Toyin Abraham on her page and accused her of being the personality behind the accusation of drug-peddling hurled at her from a blog.
Lizzy satrted off the war with this post:
"Musa hold my cloth …Na jeje I dey hustle do my business …
.
Sugbon evil is part of life and fighting is part of winning evil ..
.
.
Who remember that actor attached to ?? That was deported from America?? .
.
Who remember the cross….That was deported from London?? .
.
Haaaaa… mi o mon nkankan ..until gistlover comment section was flooded with so much jubilation from them ke?? Egbami ke ?? .
Weekend oloyin re oo ????
.
To much question will force me to release evidence fa..na wisdom they help me keep some facts …that was why I dey work so hard like machine because things about life is bigger than life gangan
.
You need to stay more calm for evidence before you get blocked ..if I block you before you see evidence ..e go pain you , because you need to know HUMAN"
Then, she posted this when Toyin's fans descended on her. She inserted the caption: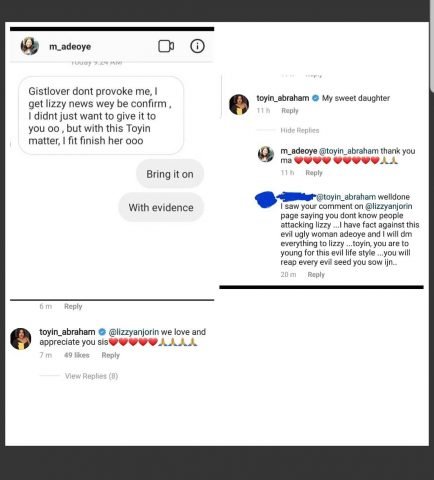 "@m_adeoye you dont know me , my followers will never slide into bloggers to damage people , but if you come for us will come for you physically and spiritually…Your toyin damaged herslef by talking bad about innocent people ..fian ..una don go dere .you dont know who is praying and and taking care of our spiritual stuff ..Using private account to attack people will make you get enemy of no peace till infinity ..you cant use private account to defend your evil act here ….. @gistlover.blog1as them dey chart you dem dey carry your own life chart on wasap group as well …You are not evil atall @gistlover.blog1 . your life shall be hacked on this story …before your formal account was hacked this was your convo with @m_adeoye and toyin ……. .I will like to gain more wisdom and patient before talking on this …No matter how hard working or good to people you are, that is how they will jubilate if you slump ..Yes I was stopped for a search and according to them,they got an information that a particular Nigerian Actress do peddle drug to Saudi,I just laughed. After searching and nothing was found,the man self was tired and was like Nigerians don't deserve you,why are they hating on their fellows ?.You nailed yourself for jubilating on gistlover and writing bad and horrible comments about the story ….Forgetting the email they used in opening their fake account are already in my hand ..Gistlover, my strive and sweat will never make you know peace plus who ever that behinde it .. .Haaa make I post more evidence ?? .
@gistlover.blog1 your end is near,your informant didn't give you full details, I was released, nothing was found on me,no cigret in my blood stream , not talk of alcohol ..you and your sponsors will be disgraced soon.I am way bigger than what you think.. you miserable blog E pain them.. .Before you tag people onijogbon or bad names pray about it …becouse you can carry course on misjudging some good people.."
Revealing that Toyin would always attack her and her colleagues through fake handles on Instagram, Lizzy cursed Toyin and dared her to come out to confront her.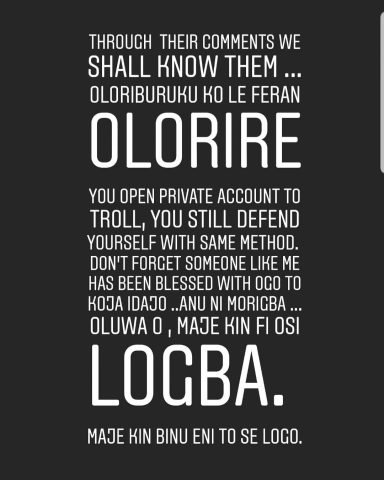 "Oniro omo ale ..Na only you get fans wey dey look for trouble , why your fans no behave like this last year ?? Upper year , were was this fans when dey use to drag you dirty with egbe gbe ???? . .
Make I continue with facts . .
Why 99.9 percent of this account you claimed as fans always on private with zero post .
Oja ti burst faa..
.
God bless my fan for minding their business ,They will only explode when you come for their brand ..
.
Besides, na some comment expose you that you are behinde the shit ..otafa soke yido bori??
.
Chaaaaaaange no fans get time to dey jump up and down for one person …everybody get their own problem..
.
If my fans cant get me private jet biko no go look for trouble …but if they come for us ?? Kill them all with everything you have ." (sic)
Meanwhile, Toyin reacted and threatened court action. She said, "It has come as a rude shock that some upstarts masquerading as Nollywood actors keep dragging my name into unnecessary drama whenever they are trolled online. I've had my own share of online trolling but not for once did I drag the names of any actor or celebrities into the fray even when we don't have cordial relationships.
Today, an actress directly mentioned my name as the owner or informant of an Instagram blog, and libeled my person and reputation by implying I planted or published some negative news about her.
Why she mentioned my name, I can't say. What she's trying to achieve, I can't fathom. Long ago, I bade bye bye to unnecessary drama and petty online/offline squabbles and so I won't descend to her gutter level.
Her so-called "evidence" of my involvement was a comment I left on the page of a fan she suspected is behind the story. How I became connected to the story beats me. This level of cluelessness is mind-boggling.
For the umpteenth time, stop holding me responsible for the actions or inactions of other people as it concerns you. Whether they are my fans or not, I don't regulate or determine their behaviour or conduct. Nobody holds Beyonce responsible for what her teeming fans, "Beyhives" do.
Anyways, I have instructed my lawyers to take up this matter and she will be hearing from them by Monday. It's time to put a stop to online bullying and bad behaviour in line with the rule of law."
Recall that the enmity between the duo was made manifest when Toyin had her baby in August and Lizzy refused congratulating her. The duo used to be friends but things fell apart and Toyin, who is married to another man, is alleged to attack many through her numerous fans.
As expected, Toyin's fans have started hurling insults at Lizzy and Lizzy's are not sparng them either.