Ada Slim, a popular Nollywood actress cum producer, wants her pound of flesh from actress, Tonto Dikeh. Ada Slim was believed to have brought Tonto into the world of acting and accommodated her at some point.
Now, she is accusing Tonto Dikeh of blackmailing and abandoning her after all she had done for the divorced wife of Olakunle Churchill.
She wrote:
"Hey Sis, you lied on my head again. I have been quiet for 10yrs now you know. U said I've been broke since my dad passed away, am no daddy's girl, ve always worked for my cash since 21.
Listen sis, Before you speak in tongues & talk of repentance, why don't you start repenting with those who loved you but you blackmailed.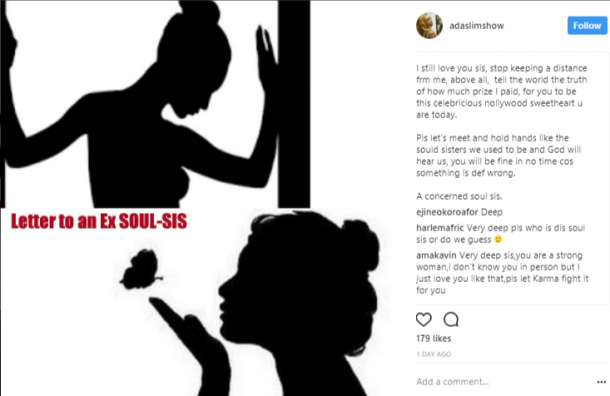 Frm PH to 042
My dream was to make your dream come true. I produced d 1st film u ever acted in the history of ur nollywood career was "Secret Pains" followed by my 2nd film IRREPLACEABLE, ur 1st car ever was my car (borrowed) I introduced you to all the "Who is Who in Nollywood" e.g Amaco films, Mama G (starring in her music video) & ace Director Tchidi Chikere. I took the bullet for you & believed in you, should we ask witnesses like Desmond Elliot,Nkiru Sylvanus, Dauda & more celebs who know our story.
I told you someday u'll make it big in Nollywood, I believed in u, even when u had doubts in urself.
Yes you finally made it but you lied to the whole world that I am "one of ur fans" ….for real? Throwbak pics don't lie….shuld I release some?
You never returned my car nor even paid bak all the cash you borrowed from me nor my clothes, till date.
I told God to take care of you that I will never raise the issue with the press cos " I didn't wanna destroy something I helped build" hey sis, I have forgiven you…long since…but you know….KARMA doesn't forgive easily. They ask you ur first film and u say it was produced by " a friend" thank God am not also tagged "a yahoo friend" you even told Iffy Okeke that my name sounds familiar…for real?
I quit because of the pains & loss you caused me (N2m loss in one film, u knw the details) I went bankrupt, you never even looked out for me for the 5yrs I was in exile in Newyork.
10yrs later….here we are. Am bak better & stronger.
I still love you sis, stop keeping a distance frm me, above all, tell the world the truth of how much prize I paid, for you to be this celebricious nollywood sweetheart u are today.
Pls let's meet and hold hands like the sould sisters we used to be and God will hear us, you will be fine in no time cos something is def wrong.
A concerned soul sis." (sic)