Now that Nollywood actress, Stella Damasus has become a marriage counselor, she has thousands of people to fight on social media. The actress, who is now married to film director, Daniel Ademinokan, posted one of her selected messages on marriage on Instagram.
Based in the United States, Stella, has always been tagged a husband-snatcher.
This is due to the circumstance surrounding her relationship with Ademinokan, who walked out of his marriage with Nollywood actress Doris Simeon and traveled to the US with their son, David to live with Stella.
So, Stella, a mother of two, who was once a widow of the late Jaiye Aboderin, shared her message on Instagram:
"Your partner should support your dreams and aspirations. There is no reason to compete but we should complete each other. Compliment your spouse and make them feel loved and appreciated at all times. When you find someone who is your biggest cheerleader, don't take them for granted. Pray for your partners everyday. Relationships take work but it's all worth it in the end."
Then, trolls took over. As if determined to fight them over the 'husband-snatching' logo put on her image, she also replied them one after the other.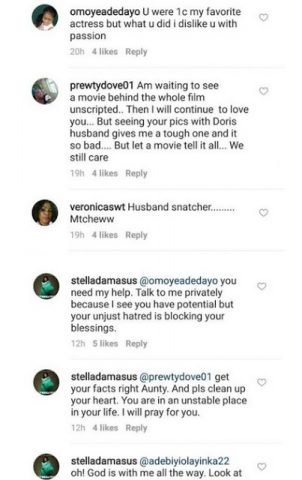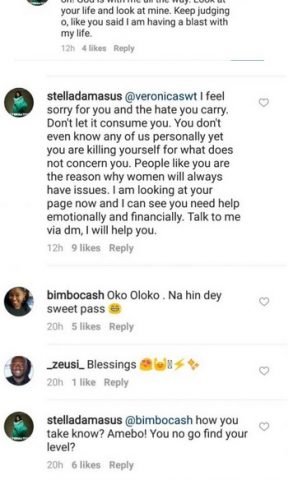 After the 'war' she then posted a collage of their pictures and wrote:
"Even the enemy is afraid of what we have and what we are about to achieve together. He sends his people he has kept in his prison of hate to steal joy and peace. I am excited because the battle has already been won. God works in mysterious ways and I am so in love with him. When Jesus is the centre of your joy, nothing, not even the powers of hell can change that. Marriages are in trouble all over the world because the enemy is trying to destroy what is left of humanity and love so he fills it with hate. I am one of those who have chosen to fight the good fight and pray for marriages all over the world. Will give you more info as regards the marriage conference series we are putting together. People don't know that all the venom they have spewed on us have given us so much content for our conference. TURN YOUR PAIN TO SUCCESS. Excited about this one Boo @dabishop007 I love you so much #pepperdemgang #actor #producer #director #recording #artist #instagood #stelladamasus #coach #speaker #marriage #conference." (sic)