She is vibrant, a damn good actress and not one to be cowed.
Then, when she was into an active career in Nollywood, you would not see famous actor, Odunlade Adekola in any movies without seeing Taiwo Aromokun.
He was always featuring her in most of the films he produced and that made her a star in the Yoruba movie industry. Before all and sundry, Odunlade Adekola and Taiwo Aromokun became an item to the discountenance of many actresses.
Of course, the press went agog with the news of an intimate affair between the two actors. Though Odunlade didn't say anything about the affair, he must have been flabbergasted when a bold and blunt Taiwo granted an interview to a national newspaper and declared that she and Odunlade were lovers!
Pandemonium! So they were actually dating?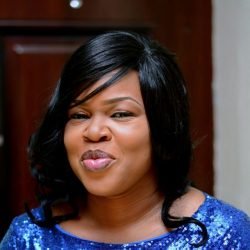 That was 2012 and Odunlade was still a 'happily married man' of two kids. Taiwo didn't spare words in detailing what transpired in their relationship. She disclosed, "I am very blunt and God-fearing. I actually went out on a date with Odunlade Adekola. I will not deny it. But we are no longer dating each other. We are just friends now. In fact, we will remain just friends for the rest of our lives. We are still close," she said in parts.
On why they broke up, Taiwo revealed that, "We broke up for a personal reason. I wanted to move on with my life. Odun was married with two adorable sons and he was not ready to take a second wife. So there was no point in continuing the relationship. I would have married him if he had asked me. Despite the fact that we are no longer lovers, we still communicate with each other."
Well, Taiwo moved on with her life after the interview, got married to a guy living in Holland, who claimed to be head-over-heels-in love with her. However, the marriage, which held in Lagos was short-lived.
A bitter divorce ensued, the buxom actress turned a single parents and she was faced with taking care of her twin boys—Jade and Jasmine.
Now living abroad, she caused a stir on social media in 2018 when she posted a photo on Instagram. Captioning the photo of a set of twins with a congratulatory message for herself, many fans and bloggers thought Taiwo had another set of twins. About two days later, she denied the piece of news. The twins were not hers but that of a friend.
She went off social media after, only to resurface in January 2019 when her twin sister, Kehinde got married.
After Kehinde's wedding, Taiwo went off social media. Though in 2018 she kept posting photos of her colleagues who were celebrating their birthdays, the last time she posted was in August 2018. Even her twin sister pulled down all posts from her page on Instagram, save one. Why she has disappeared from the scene?
A source revealed to Kemi Ashefon, "Well, she is no longer acting and now that she is abroad, she has to work harder to make money and care for her kids. Her former husband is no longer with her and the kids. Life abroad could be really hard for a single mum and that's the reason she has kept off social media. She is said to be in a relationship and needs to be off social media."
Source: OPERA NEWS