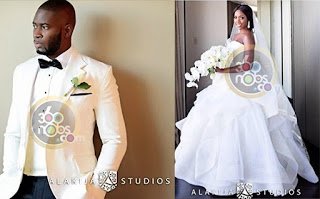 TJ Billz Balogun and former Miss Tiwatope Savage got
married at a star-studded event in 2014. Everyone was happy for sexy Tiwa.
Quite loved by fans, Tiwa has worked her way to fame with dedication, her
dexterity on stage and her creativity.
That she is also married is also a plus to her booming
career and when she had her baby last year, it also heralded much jubilation
and more endorsement for mother and child.
But it seems Tiwa's husband has not been on the same
page with her forever!
Signs that there were cracks in the marriage was
noticed when five months after their wedding, the news went viral
in the media that the marriage had hit the rocks.
In
the course of the viral reports, both parties refused to comment on the issue,
which got the grapevine even more interested in the turnout of events. The
couple told some sources close to them that they won't react to anything
concerning the rumours, saying their body language would communicate the real
state of things.
On
September 26, 2014,

TeeBillz became a
year older and Tiwa Savage practically forgot to wish her husband a happy birthday
until much later in the day.
Again, after a while, (about a year ago) Tiwa sacked
TeeBillz as her manager, was said to have walked out of the home, stayed with a
friend temporarily and, the beautiful singer who cherishes her mother so much
because of the impact she took in her life while growing up, employed Emeka,
Mekka Millions as her new manager.
Although speculations were up since she started stepping out
to functions alone without the husband, it was revealed that the marital crisis
last year was as a result of Tiwa's husband, Teebliz beating her up always.
This early morning post (if Teebillz' account was not
hacked) would be the last straw that would break the camel's back—this is
outrageous!
Mum has been the word from Tiwa Savage.