They
got married over 13 years ago. According to Mide, daughter of the late actress Funmi
Martins, Afeez Abiodun was her mother's Personal Assistant. Obviously a
stranger to Nollywood (Yoruba) industry, she got all the support needed from
Afeez, a director/producer and in no time, she was a sought-after actress. They
married, had two children and adopted the child her late mother bore before her
death.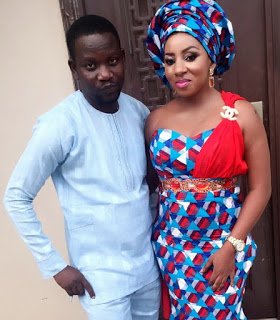 The last public outing of the couple
Even if the fast-rising actress had loved
her husband, many of her fans didn't embrace the idea. They wondered why she
married an ugly man. Mide was unperturbed and always assured everyone of her
love for him.
But times change, so do people.
Mide
became conscious of her beauty and started blossoming. She adorned designers
wear, accessories and was always ready to share her pictures on Instagram.
No big deal with the aforementioned facts
but these signs were noticed:
i
47
weeks ago, April 2015, was the last time she posted or said anything about her
husband on Instagram.
ii
She
dumped her Ankara attire and started embracing high street fashion. Her love
for shredded jeans and boob-spilling attire became pronounced.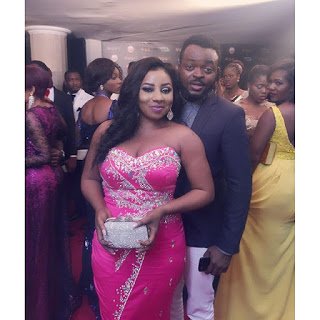 Mide and actor Yomi GoId at the AMVCA in March
iii.
She
started wearing a fairer complexion
iv.

She
posted pictures of any events she attended and posed without caution with men.
v.

Not
once did her husband attend any occasion with her in 47 weeks even when these
events were organised by artistes.
vi.

Her
birthday was April 12, while Afeez was April 13. She celebrated hers on Tuesday
and got a congratulatory message from Afeez. Mide never posted any picture;
neither did she write any birthday message in honour of Afeez.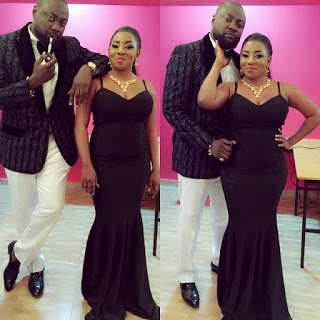 Mide posing with Yomi Blaq at BON Awards 2015
vii.

Friends
and colleagues said they no longer live together.
viii.

Mide is alleged to
be a mistress to a popular but generous businessman, who is also a member of
the National Union of Road Transport Workers in Oshodi, Lagos.
ix

.

She
refused to pick calls on Afeez birthday to respond to calls and inquiries of
what went wrong.
Folks, do you think this marriage can be
retrieved from collapse?