Though said to have flown to Maryland from his base in Los Angeles, following his wife's murder, Ghanaian actor Chris Attoh, is in the eye of the storm currently and many fans are wondering why he tweeted about his shaky marriage just 30 minutes after Bettie was murdered.
Last week, Chris Attoh sparked speculation on social media that all was not well with his second marriage after he deleted all of Bettie's pictures from his social media pages.
A quick check on social media, revealed that Chris Attoh tweeted about his 'shaky' marriage, 30 minutes (5:31pm) after his wife Bettie Jennifer was shot dead.
The tweet reads: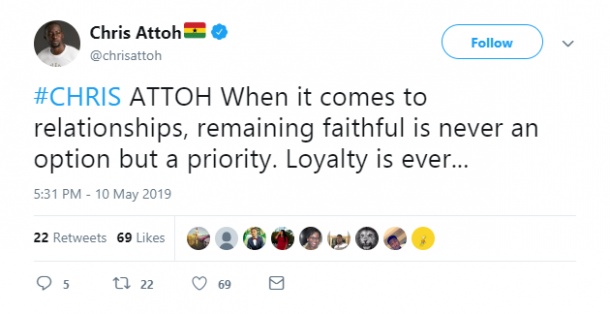 Recall that Bettie Jennifer was shot dead on May 10, 2019 around 5pm, and was pronounced dead when police arrived at the crime scene.
Chris Attoh and Bettie Jenifer married at a private ceremony in Accra in October 2018. This was shortly after divorcing his first wife, Nigerian actor DamiloIa Adegbite, with whom he has a son.