Maryam
Maryam Fadil, the
granddaughter of the late Head-of-State, Gen. Sani Abacha is 16 years old
today, May 17. Her birthday was heralded with a shout-out from her mom, Gumsu
Sani Abacha, who is married to Bayero Fadil, a billionaire businessman.
Gumsu Sani Abacha
Gumsu Sani Abacha
Maryam, who is as pretty as
her mum, is Gumsu's firstborn.
Gumsu, who is a social media
freak, was a guest of the Buharis at the Aso Rock Villa last November. She was
received by First lady, Aisha Buhari and Zahra.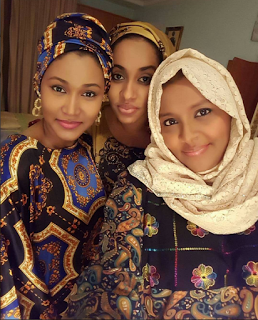 Gumsu and her sisters-in-law
She posted this morning on Instagram, "Happy
16th birthday to my baby ..my best friend…my first love..my confidant. May
Allah swt bless you as you turn 16 today and always." (sic)