Her crashed marriage has been in the eye of the public since she released her book, 'On Becoming', on November 28, 2016.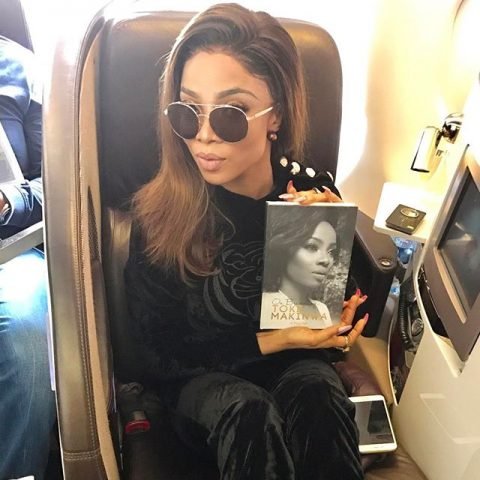 For On-Air-Personality, Toke Makinwa, it has been a jar of honey since that release date. The Vlogger had travelled from one state in Nigeria to the other; she had visited Dubai, Ghana, and she is currently in London for another launch and also has a meet-and-greet with fans on February 25, who would pay 20 pounds to register and share some 'On Becoming' moments with Toke.
Good for her.
Meanwhile, her estranged husband, Maje Ayida had employed some Nigerian and British lawyers to stop Toke from her proceeding on the sale of her book.
The fitness coach and columnist, who is the principal character in the book "On Becoming" declared the book as an "exaggerated fabrication."
He has also asked her to stop the sales of the book and all forms of promotional activities.
Also, in an interview Maje said the book hurts his brand.
Obviously making money from all these, why is Toke still adamant on ridiculing Maje and going on with launch?
Obviously, she is on a revenge mission.
Though she said in the book that she has moved on and not bothered about Maje or his mistress and Baby Mama, Anitah Solomon, Toke would not forget these incidents in a jiffy.
The secret wedding on January 2014:
"Finally, I thought. He chose me! He has stepped up and he's finally ready to make us a priority. It was my wedding day. I was happy, yet I was waiting for something to happen. Maje had disappointed me three times before. We would pick a date to go to the wedding registry and he would call it off…. We had discussed eloping, but he'd never committed to any plan. It wasn't until we shared our first dance to John Legend's 'All of Me' that I finally believed that it had happened."
Then, the sex tape issue which she wrote:
"At some point while we were dating, Maje had asked if he could tape us having sex. This was a new one for me but I would do anything to keep my man, or so I thought, and so I obliged.
But I was nervous afterwards because I didn't want the tape to get into the wrong hands…. I dragged the file back to his desktop, and I could tell from the stilled image in the video that the person in it was not me…. I clicked play and watched horrified as Maje had sex with Anita. Watching that video, all of the inadequacies I thought I had dealt with over the years came rushing back. I had been with Maje from when I was an immature teenager, through my twenties, and for most of those years, Anita had been the standard I had to live up to. I had lightened my skin at some point – Anita was half Lebanese and half Ibibio, and Maje made me feel like he preferred her lighter skin."
She can never forget why she is still without child. She wrote: