Media mogul Hugh Hefner died at age 91 Wednesday after decades as the face of the men's magazine Playboy, which he founded in 1953.
Hefner became known for his trademark smoking jacket, pipe and endless string of girlfriends – usually more than one at a time – while expanding his media empire into nearly every cultural facet imaginable and helping to further the careers of innumerable women after they appeared in the magazine's pages.
Playboy started after Hefner quit his job with Esquire when he was denied a $5 raise. He produced the first issue himself, using nude pictures of Marilyn Monroe taken before she became a movie star. It was printed without a date because Hefner was unsure a second issue would ever be created. It sold 50,000 copies, and launched the Playboy brand that later expanded to TV shows, movies, night clubs, Twitter promotions and publications in several languages, including a Braille edition.
It took just three years for Playboy to eclipse Esquire in circulation.
But it was not always smooth sailing.
Hefner was arrested in 1963 on charges of obscenity, regarding the magazine's photos of actress Jayne Mansfield. He was tried for selling obscene literature, but a jury could not come to a verdict and the charges were dropped.
The incident caused him to create the Playboy Foundation, which fights censorship and benefits nonprofit organizations that research sexuality.
The magazine stopped publishing fully nude images beginning with the March 2016 issue due to increased competition from online sources making images of naked women – the central feature of Playboy's image – easier to find. The announcement came in October 2015. The magazine, however, continues to publish risque photos and name a playmate each month.
Hefner was born in 1926, the older of two boys, and had four children of his own. He married Mildred Williams in 1949 and had a son, David, and daughter, Christie, who took over the reins of Playboy in 1982 before stepping down in 2009.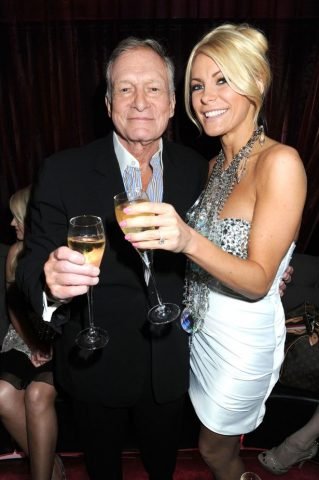 Hefner and Williams divorced in 1959 and as a result his image as a man about town began to blossom. Between 1959 and 1985, Hefner became known for dating many of the women who appeared in the magazine and hosted wild parties at his Los Angeles-area mansion. His lifestyle was chronicled and promoted in the magazine.
Hefner suffered a minor stroke in 1985 and he started to scale back the late-night parties.
His daughter took over the company three years later and in 1989, Hefner married Kimberly Conrad, who had been a Playmate of the Year. The couple had two sons, Marston and Cooper, and the party lifestyle was replaced by a quiet family life. The couple separated in 1998 and divorced in 2010.
Hefner resumed his previous ways, dating up to as many as seven girls at once before trimming the brood to three. Those three – Holly Madison, Bridget Marquardt and Kendra Wilkinson – became known as the Girls Next Door after their reality TV series of the same name. They subsequently became arguably the most famous of Hefner's legendary string of companions.
The Girls Next Door all departed the Playboy Mansion, where they lived as Hefner's girlfriends, in 2008, and by 2010 the famous bachelor was ready to be married again. He proposed to Crystal Harris on Christmas Eve. The two planned to marry six months later, but Harris called off the wedding five days before it was to take place at the Playboy Mansion.
She was also scheduled to appear in a celebratory issue of Playboy that month, and in response to the cancellation, the pictorial proceeded as planned with a "Runaway Bride" patch displayed prominently on the cover. The two later reconciled, Harris moved back in with Hefner and they were engaged again late in 2012 and were married in a small ceremony at the Playboy Mansion on New Year's Eve.
Hefner was involved in many philanthropic activities, and hosted numerous charity functions at the Playboy Mansion. His daughter also created the Hugh M. Hefner First Amendment Award to help raise money for the CORE Center in Chicago, the Midwest's first outpatient AIDS clinic.
Though he never met Monroe, Hefner purchased the crypt next to her in Hollywood's Westwood Village Memorial Park in 1992 because of the influence she had on launching the magazine.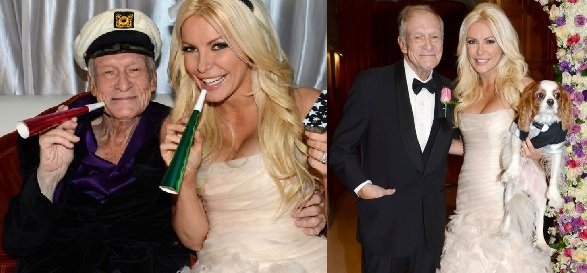 But having signed an iron-clad prenuptial agreement before saying 'I do', it's thought that the former Playmate of the Year will inherit nothing of his multi-million dollar fortune.
Although Crystal is believed to have never been added to Hef's will, she'll apparently be 'looked after' following his death from natural causes.
It was reported by US Weekly in 2013 that Hef's $43 million fortune will be divided among his four children, the University of Southern California, as well as a list of charities the star supports.
Crystal also reportedly called off her first wedding to the publishing legend in 2011 because she got cold feet.
More than 300 guests were set to attend the ceremony, but were told that it wouldn't be going ahead just five days before.
She once said of it: "Last time it turned into a big ordeal and then it all fell apart."
Crystal once publicly shamed her husband when she told the world they'd only ever had sex once, and that it lasted just "two seconds".
She said: "Then I was just over it. I was like, 'Ahhh.' I was over it."
Following their split after she called off the wedding, the pair reunited in 2012 and Hef said he wanted to spend the rest of his life with Crystal.
And he insisted that their huge 60-year age gap didn't matter.
He tweeted: "The dramatic age difference between Crystal & me really doesn't matter. Whatever time I have left, we want to spend together."
And Crystal said the second marriage was different because she was excited to finally tie the knot.