The Ooni of Ife, Oba Enitan Adeyeye Ogunwusi is set to usher into his palace another beautiful woman.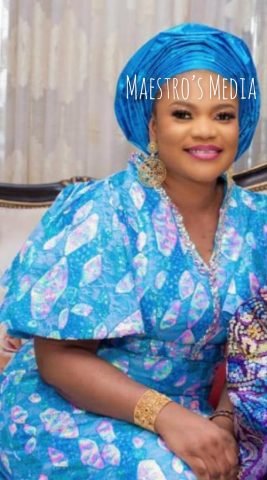 This time the handsome monarch goes for an Oil and Gas executive named Mariam Anako.
Don't forget that this is Ooni's fourth official marriage. He has been single since his former wife, Prophetess Silekunola Naomi left him in December 2021.
The union produced a son, Tadenikawo, who celebrated his first birthday in November 2021 before Naomi left the monarch.
Already palace sources revealed that the family introduction has already taken place and Ooni's new in-laws have met with him one-on-one.
The ceremony which held on February 19, 2022 was privately done and lacked fanfare since the monarch didn't want any preying eyes of the media.
So, who is this beautiful incoming queen?
She is from the Ebira ethnic group in Kogi State. Anako's parents are based in Ilorin. Mariam lost her dad at a young age and was brought up in the home of the former IGP Mohammed Dikko Abubakar who was the boss of the Nigeria Police between (2012 – 2014). MD Abubakar is the in-law of Africa's wealthiest man—Alhaji Aliko Dangote.
The Ooni's new mother-in-law is also a retired police officer.
Mariam Anako works in NestOil and is said to have being of immense help to the monarch.This must have endeared her to him.
Mariam is a good girl though. Not one given to riotous living, she is a wife material who will live happily 'ever after' with the Ooni.
She is Ooni's fourth official queen since coronation.
The first marriage of the Ooni to Adebukola nee Bombata was troubled before he was installed king but they had to patch things up for the coronation.
It later crumbled; she left the palace and headed for London.
With the crash of his first marriage to Bukola in 2015 and his union with Olori Wuraola hitting the rocks in July 2017, he married Prophetess Naomi in 2018.
However, Queen Naomi had on December 23, 2021 announced her divorce from the Ooni of Ife via an Instagram post.
In a statement posted on her verified Instagram handle, she announced an end to the three-year marriage.
Queen Silekunola gave many reasons for the demise of her marriage to the Ooni.
According to her written statement, the divorce is not because of 'side attractions' or other lovers, as many opined. She also said that her marriage was not arranged and that the circumstances were being misconstrued by many.
Already, the new queen, Mariam, who is arriving the palace in August, is all prepared and so are the palace officials who have started renovation works in the vacant chalet that once accommodated former Queen Naomi and her entire family.