Suspected serial assassin, Ade Williams alias Ade Lawyer who was arrested by the police yesterday said apart from killing four people at different occasions for former National Union of Road Transport Workers (NURTW) Chairman in Lagos, Akanni Olohunwa, he was also paid by traditional rulers to assassinate their rivals or perceived enemies.
According to the suspect, Olohunwa contracted him to kill a former Idumota branch Chairman of NURTW, Azeez Lawal alias Kunle Poly on January 23.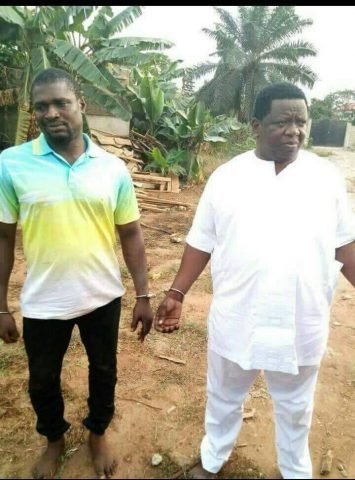 Williams said: "I have killed four people for Olohunwa. I also killed for one Kazeem Eletu and Olumegbon. I have known him since he was NURTW chairman in Lagos. I have done a lot of jobs (assassinations) for him. I killed two people for him during the clash between himself and Musiliu Akinsanya (MC).
"He was the one who asked me to eliminate Kunle Ploy. He said Kunle Poly betrayed him and blocked the returns he used to receive as ex-chairman.
"Olohunwa told me that he brought Kunle Poly into NURTW and that he expected him to be loyal. Instead, Kunle Poly blocked the money he was supposed to be receiving from NURTW Abule Egba office.
"So, he said he did not want to see Kunle Poly again and asked me to meet him somewhere so that we would discuss how to carry out the assassination.
"I told him I was not mobile and couldn't meet him where he wanted and he drove to Igbosere to meet with me where I was.
"He called me on phone and I went to his car. That was where we discussed the attack on Kunle Poly. After discussing, he then gave me N500,000 as advance payment for the job and promised to pay the remaining N1, 000, 000 after the job was done.
"He told me to keep the operation a secret. That he didn't want anyone to know about it and that was why he came to me personally. We were supposed to attack Kunle Poly on January 22 but we moved it to the next day because it was not convenient.
"Then, on January 23, we missed the target and killed Kunle Poly's assistant, Ganiyu Ayinla instead. I called Olohunwa to brief him on the development.
But instead of giving us the balance, he started avoiding my calls. So, I later called him with my private line, he picked and said he didn't want to talk to anyone for the time being.
"I told him to pay my balance. I was surprised when he sent his brother to give me a Toyota Camry car and I told his brother I didn't need the car but wanted his Hyundai jeep which he brought to me.
"His brother who brought the jeep said Olohunwa promised to balance me after which he would collect the car. The vehicle has been with me for about three weeks now."
However, Olohunwa denied the allegation, adding that Williams threatened to kill him and his family members if he did not give him money.
He said the N500,000 he gave Williams was so that the suspect would leave him alone, adding that it was one of his boys who suggested he sent the money because Williams was "troublesome."
Olohunwa said: "Ade Lawyer called me one time I was travelling to Ede, Osun State and said he had accident along Lagos- Ibadan Expressway. He was disturbing my boy that they should tell me to do something for him.
"I did not do anything for him and travelled to England. While abroad he was sending threat massages to me. He said if I failed to give him money, he would kill me and my family members.
"When I came back, I called one of my boys to explain what was happening and he advised that we should give him something because he was a troublesome person. That was how I gave that my boy N500,000 to give him so as to rest."
Continuing, the former NURTW boss denied giving his car to Williams, insisting that it was his brother who did it.
He said: "I did not send my brother to give him my car. I was sleeping when my son and one of my brothers came to wake me up that brother Skoda had given my car to Williams.
"Immediately my brother gave him my car, I was looking for who to contact so as to retrieve it. That was how I knew Williams feared someone called Abija. I called that person and he told me to be patient, that he would get the vehicle back.
"I was afraid when he threatened to kill me and my family. I was scared because I know he was a killer. He shot dead nine people who were going to Lagos Island from Ajah. He also killed NURTW Oyingbo Chairman. So, I knew he was not joking when he threatened me and my family and I needed to get him off my back."
Parading the suspects, Police Commissioner Imohimi Edgal said the confessions of those earlier apprehended led to their arrest.
Edgal said: "Following the murder of Ganiyu Ayinla on January 23, the Inspector General of Police (IGP) Ibrahim Idris mandated the Intelligence Response Team (IRT) and the Technical Support Unit (TIU) to fish out the culprits.
"Adeola Williams was arrested and he confessed that Rafiu Olohunwa Akanni former chairman of NURTW contracted him with the sum of N1.5m to assassinate Kunle Poly. "One AK47 rifle with number 3501357, two empty magazines and a black Hyundai Santa fe Jeep with registration number EKY741DL seized from Olohunwa were recovered from Williams."
Edgal said investigation was ongoing and efforts to arrest other fleeing suspects in top gear.