This is an actor who is a darling of many actresses—not a few actresses would resist warming his bed.
Odunlade, who has been married to his wife, Ruth for 15 years (would mark 16th wedding anniversary in April) has been in the news for many years for been the cause of spats among some actresses. Who are they?

1. Taiwo Aromokun and Ronke Odusanya: This happened at the outset of their careers in 2011/2012. Then, Odunlade Adekola would feature Taiwo Aromokun prominently in his movies. As a result, she became a star in the industry. In the same vein, Odun, as he is popularly called, would also feature Ronke Odusanya aka Flakky Ididowo in many of his movies.

"There was a time the actresses were keeping malice with each other but by the time Taiwo got married, they seemed to have settled the quarrel," a source told Kemi Ashefon. Ironically, Ronke has also been delivered of a baby girl in 2019 and her partner seems ready to wed her anytime soon.
2. Kemi Afolabi and Seyi Ariyo (She Baby):
What started as a location spat degenerated into a messy fight between lawyer-turned-actress, Kemi Afolabi-Adesipe and Seyi Ariyo aka She Baby. The cause of the spat was a piece of clothing owned by She Baby which was borrowed by Kemi Afolabi and to return it became a challenge. The actresses fought over this issue and ended up accusing each other of sleeping with Odunlade Adekola.

Of course, Odunlade talked over this and lambasted the actresses for doing such. Though Kemi and She Baby, who were both married women at the time of the incident (they are still married though) settled score and are now great friends.
3. Eniola Ajao: She has continually denied being his mistress. A graduate of the University of Lagos, she was alleged to be a constant lover of the actor who she refers to as her boss. Always using the prefix, 'sir' for Odun, Kemi Ashefon gathered that with the aid of her 'boss', she relocated to Lagos from Abeokuta and now lives in a highbrow area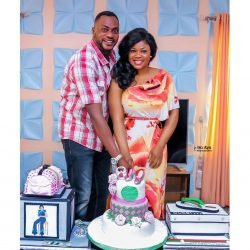 .
4.Bukola Adeeyo:
The affair waxed so strong that her firstborn, Janelle, was said to have been Odunlade's. Bukola, who has also relocated to Lagos from Abeokuta, would always refer to Odun as 'My Daddy.' Their alleged amorous affair was a boost to her career and she rose to fame fast. Then, she was always getting the lead part in some of his films. When she had her daughter, the Internet went agog with the news that the actor, who is a buoyant and creative producer/director has finally gotten a baby girl after four boys! Bukola must have been pushed to issue a statement that Odunlade wasn't the father of her baby girl—she didn't indicate who was anyways. She had a baby boy two years later and the same news went viral. Luckily for Odunlade, the wife of the man who impregnated Bukola went online to reveal that the actress had the babies for her husband, named Lasben aka Chinchoin. That was a sigh of relief! It vindicated Odunlade as a babydaddy but that hasn't erased the fact that he was once an 'intimate friend' of Bukola Adeeyo.