Last Battle Baba Ijebu Fought, Won For Daughter
Estranged wife of Olujonwo Obasanajo, Tope Adebutu-Obasanajo, is mourning currently.
Tope, whose mum, Chief (Mrs.) Rosemary Dacosta Adebutu would have been 70 years old in May, believed that it was God's will for her to have gone unexpectedly.
Rosemary Dacosta who was one of the wives of billionaire businessman, Premiere Lotto magnate, Chief Kessington Adebukunola Adebutu, had just one daughter.
According to family sources, Rosemary was hale and hearty until she developed a mild cold around 2:00pm on January 9, 2021. She was reported to have been rushed to St. Nicholas Hospital, Lagos Island, where she later gave up the ghost.
Taking to Instagram, Tope who was very close to her late mum wrote, "Death where is thy sting? My mum lived and breathed for me. I sincerely wished since yesterday that this is a bad dream
I take solace in God Almighty and thank God for the gift of a mother who meant the world to me and whom I meant the world to. I love you mummy. God loves you more."
When contacted by Kemiashefonlovehaven, Tope, who remained inconsolable said, "Its as if a knife had been pierced through my heart. Its painful. Its unbelieveable but I just took solace in the fact that it was God's will for my mum to leave me at this time. My mum was my friend and we were very close. Its sad and I pray that God helps me through this period," she said.
Rosemary Dacosta while alive had thrown weight behind her daughter Tope when Taiwo, one of the wives of Chief Olusegun Obasanjo, went public about her grievances on her son, Olujonwo, marrying Tope, a lawyer.
The late Rosemary resisted vehemently that her daughter's name be dragged in the mud by Taiwo Obasanjo and her son when the court summons and sworn affidavit of Jonwo Obasanjo on why he wanted to divorce Tope went viral in 2018.
"Why should a man send such documents online?
First, the story was cooked up, there was no assault anywhere. They are aggrieved because there was no material gain like they assumed they would get," she exclusively told kemiashefonlovehaven in 2018.
"I have kept quiet all these months because I am not one to stoop low but I cannot sit back and watch them tell lies against my daughter, who is a Magistrate and a civil servant. She cannot be responding to all their lies on the Internet.
"We will meet them in court to clear up all these lies and give them the divorce they want. They should leave us alone,we are tired and the divorce will go ahead as reported."
On Taiwo Obasanjo, the late Rosemary said, "She is not a good woman, she should look for somewhere to sit down and repent from disturbing the peace in her son's home. She has called me all sorts of names— vulture and a snake— but she is worse than the names she called me.
"I am not in a cult like her. I am all for Jesus and my hands are clean. I don't go around slandering people's character as she does.
Taiwo Obasanjo is not happy that after collecting over N4m from Chief Kessington Adebutu, she dare not appear before him again since she has disgraced herself. How can a mother use her son as a bait for financial gain?"
Revealing that former President Obasanjo and Chief Adebutu were not happy with what happened to the union of Tope and Jonwo, Mrs Adebutu exonerated her daughter from allegations levelled against her by her young husband.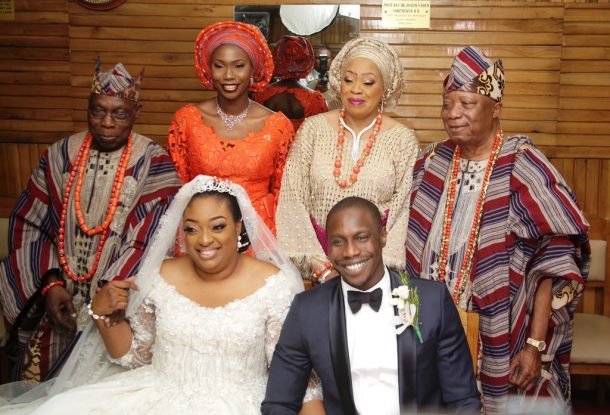 "Tope's father was called in London as well and he is not happy at all with all these lies. Tope, my daughter, has never threatened his life or abused him. Olujonwo is mentally disturbed and that is what the problem is now and he is also being manipulated by his mother.
I have called Obasanjo to register my displeasure at all the lies, I have told him they should leave my family alone."