The video of the Oba of Lagos, Oba Akiolu, snubbing the Ooni of Ife, Oba Adeyeye Ogunwusi at a ceremony recently is still trending online.
The video had the Ooni of Ife greeting the Oba of Lagos and getting instead, a cold shoulder from the older king.
Everyone condemned the Oba of Lagos's attitude.
Arguments are trending too on who is superior, who should be subservient and lots more.
But the wife of the Ooni of Ife, Olori Zinab Wuraola chose the subtle path to celebrate her husband.
She wrote, sharing the picture of some chiefs paying obeisance to the king: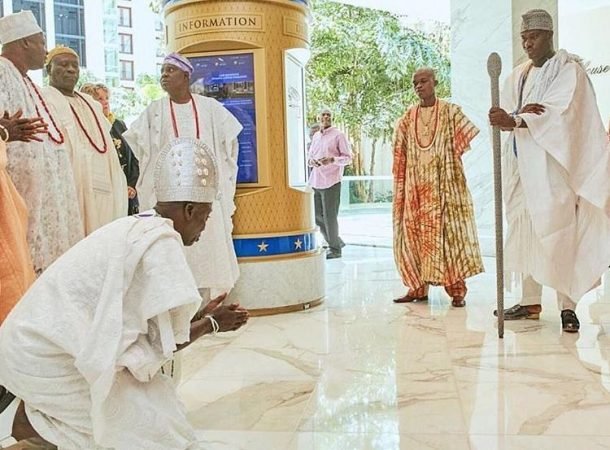 " My husband, my soulmate, my mentor, my king, the people's King; A King like no other. The Custodian of culture, the keeper of Yorubas across the world, and the voice and symbol of peace. When you recognize what and who you are, your vision becomes bigger than the daily struggles of the mundane.
When you uphold that vision, you see beyond the physical and you envisage and work towards a future that is liberating for all. – Olori Wuraola-Zynab Ogunwusi
#OoniofIfe #AroleOduduwa #OjajaII #KingofKings #OloriWuraola." (sic)