Nigeria's Senate President, Dr Bukola Saraki, has ruled out the possibility of his son participating in the governorship race in Kwara in 2019. Speaking at a public forum in Abuja, he denied rumours that his son was being groomed as the next governor of Kwara State.
According to him, the young man is not interested in politics.
Saraki said, "That is not in the offing at all; I am sure he doesn't even want to hear politics at all. You know it is not easy for children who are born to politicians, especially at this time, to embrace politics.
When I was much younger, we were insulated from some of the political issues, and because we didn't read the newspapers, we didn't know what was happening. I reluctantly went into politics, you can go and check.
"Once or twice, I was given the form to run for House of Representatives, and I remember I just travelled and disappeared for months. After seeing what my father had been through I thought to myself that this is not for me," he said.
araki, however, said that the most important thing for him in the state was the legacy which had been left and the continuity and good relationship between former and the serving governor.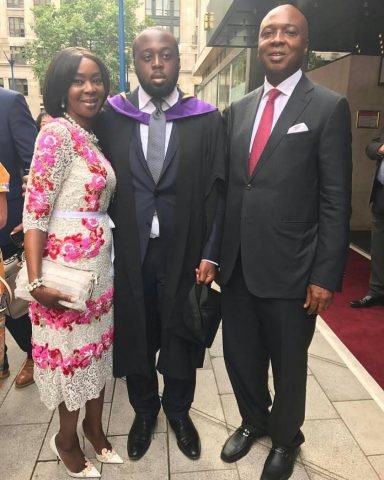 He said that his successor had also done a good job in transforming the state by creating an environment for entrepreneurship.
"In the agricultural sector, we have done a lot of things that drive commercial activities which are not in the blueprint of the country.
"Even in the universal health coverage which we are now talking about at the national level, I started that when I was governor, and now my governor has continued and built on that.
"This shows the importance of continuity and stability and today, we thank God that we are one of those states where there is a very good relationship between former governor and current governor." he said.
He denied insinuation that pensioners in the state were still being owed arrears dating back to when he was governor.
"Majority of the amounts still being owed are at the local government level, most of the state level pensions are not outstanding.
"There might be issues with pensions here and there but I don't know the details. I know that the arrears and liability are at local government level, not at state government level," Saraki stated.
(NAN)