Just when followers on Instagram thought it was over with the 'drama' between Mercy Aigbe and her estranged husband, Lanre Gentry, Mercy unleashed two other 'exhibits'.
First, she reacted to what her husband said on waiting for the court to prove him guilty on the Domestic Violence issue he had with his wife.
Mercy wrote: "Mr. Gentry keep denying, you need more lies. I have more than enough evidences, witnesses and your fate will be determined in the law court……….Begging in private and forming Saint in public…..Now you suddenly remember the kids? Now you suddenly remember you have a family name? When you were busy telling all those hideous lies against me, you forgot we have kids! When you were busy punching me, hitting me and almost killed me that day you forgot we had kids??????? ? (Which was not your first time) ……..Infact if you infuriate me any further I will put everything online including the undertaking you signed 3years ago at the police station! So the whole world sees you for who you are! I have protected you for too long! Keep it coming I am so ready for you…………NEVER KNEW I WAS MARRIED TO MY ENEMY ………."
Again, Mercy shared a photo where she said she was almost rendered blind by her husband!
She captioned it: "Throwback to when a man I call my husband almost blinded me!!!!!!!
Keep the denials and your numerous lies coming!
I am ready for you…..Mr Gentry!"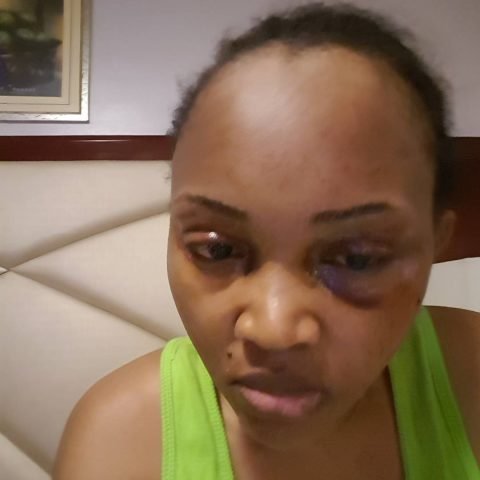 On the morning of June 29, actress and mother of two, Mercy Aigbe released a video of her assault by husband, Lanre Gentry.
Her husband later mocked her that she was telling a lie and he had never laid his hands on her.
The seven-year-old union which produced a son made headlines when on Friday April 28; photos of a battered Mercy Aigbe-Gentry went viral online!
She was said to have been battered by her husband, Lanre Gentry and had suffered injuries on her face.
The actress moved out of her marriage, reported to the Anti-Domestic Violence Unit of the Lagos State Ministry of Women Affairs and the husband was charged to court. He spent seven days at the Kirikiri prisons after which he was released on bail.
The case is still in court but adjourned till July.