Almost two years after her incarceration in a United States of America's prison and her deportation to Nigeria, Nollywood actress has cause to rejoice again after many months of embarrassment and name-calling.

Lola Margaret, who was based in Atlanta, United States of America where she lived for some years, was deported as a result of a credit card fraud case she got involved in 2017.
She has since been deported to Nigeria.
Then, the Nigerian actress' arrest came some weeks after Nigerian singer, Dammy Krane, was arrested in Miami, USA on grounds of grand theft, impersonation and credit card fraud. Then, a surveillance was placed on her bank account since she was suspected to have been withdrawing huge sums consistently before she was arrested.
Sources close to the actress alleged that Lola was initially released on condition that she revealed the identities of the characters she was working with on the illegal withdrawals, and she did.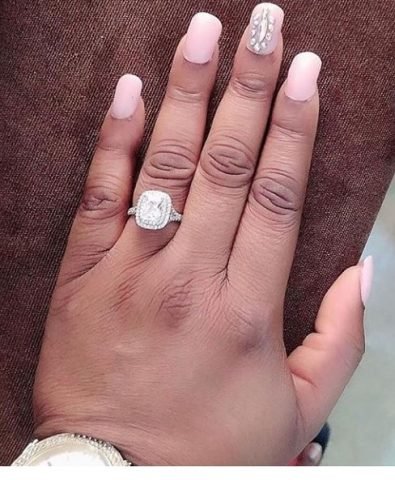 Though she has been sighted at some public functions, and even shot a film, the actress, who relocated to Ibadan after she was deported to Nigeria in 2017, has refused to return to her bubbly self.
But she has got a man to marry.
Kemiashefonlovehaven exclusively gathered that a wedding held between Lola Margaret and her beau some weeks ago.
According to sources, the wedding, which held some weeks ago at the Ikoyi registry in Lagos, witnessed a 'little crowd'.
According to what sources exclusively told Kemiashefonlovehaven, Lola Margaret got married to a guy popularly called Esdeelion.
"The guy, who was dating Ronke Odusanya, was head-over-heels in love with the buxom actress, who visited Esdeelion in company with Lola Margaret.
But Ronke didn't know that her supposed best friend, Lola Margaret is a snitch and was always telling Esdeelion about her escapades with another guy. Esdeelion ditched Ronke, who later got serious with her other boyfriend, and now has a baby girl for him," sources told Kemi Ashefon.
Known to be a serial polygamist, Esdeelion is rumoured to have been married to another woman before Lola.
"Yes, she is his second wife and will be his fourth babymama if she has his baby. Esdeelion was married to a woman from Badagry who he left in Shagamu, Ogun State. He loves women a lot and has dated many actresses. He has three kids from three different women. He went for Lola Margaret because of her money. After serving her jail term in the US, Lola still had some cash on her and was able to finance the affair with Esdeelion.
The guy drives her car, she bought the ring for her proposal and also paid for the registry fee. In fact, she sourced for all that they used for the wedding," sources revealed to KemiAshefonlovehaven.
Now married, Lola Margaret is maintaining a low profile as she is yet to announce her wedding or new name. She hopes to rebrand herself and still present her new status publicly.