Since her estranged husband, Oladunni Churchill granted an interview and painted Tonto Dikeh as a drug addict and violent wife, who destroyed his property worth millions of dollars, the Nollywood star is still forging ahead with her foundation's Back-to-School project for students and flaunting her son, King Andre.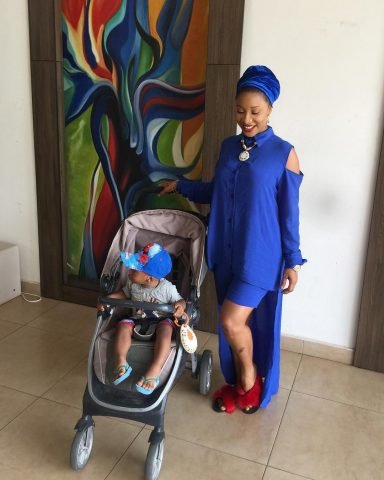 The boy is a split image of Churchill.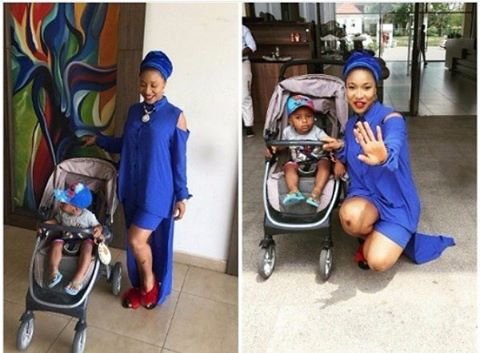 Tonto, who seems to savour motherhood, looks good in a royal blue outfit and she was seen lately pushing a buggy.
When asked in an interview what her challenge as a mum was and she replied:
"I've never had any challenge as a mother, I have a competent nanny, who if I'm not there, is able to take care of my child. If I didn't have a nanny, the welfare of my child in my absence would have been one of my greatest worries, but, I work with the best people. Any time I'm away, which is hardly ever, I know my son is safe."

Indeed Andre has made Tonto drop many habits including drug use. According to her, her son made her turn away from drugs.
She said, "I've had alot of things said about me, it's the same thing, it never changes, but something that has really hurt me in recent times is someone coming out to associate me with drugs as a mother. That hurts me so much, that hurts me because nobody sees how good of a mother I am. Nobody knows the sacrifices I've made for my son. I have a file at home, I do a drug test almost every month and I tell him how much he has changed my life, how much I'm a better person because he's in my life. I tell him how much I've stopped so many things for him that really destroyed me and broke me into a million pieces. That's the worst thing I've heard."