The Olojo Festival in Ile-Ife might have come and gone, but some memories remain.
The festival which attracted a huge gathering of worshippers, guests and friends of the royal dynasty in Ile Ife is an annual event.
Always celebrated amidst pomp and pageantry, the Olojo Festival witnessed an array of musicians who always stormed the palace to perform to the delight of the king and other guests.
During the recently concluded Olojo Festival in Ile Ife, Osun State, guests were treated to sumptuous meals and drinks. There was also ample time to witness cultural dances.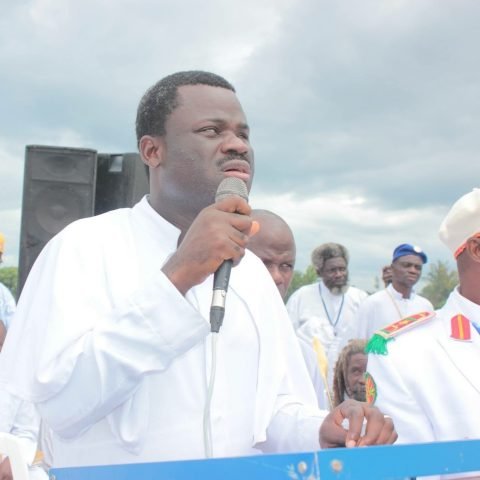 Just as celebrations continued at the Ooni of Ife's palace during the Olojo festival, one of the musicians invited was Fuji maestro, King Wasiu Ayinde Marshall.
As Oloori Silekunola Naomi, wife of the Ooni of Ife, Oba Adeyeye Ogunwusi, took over the dance floor, Dolapo Awosika also came with her to dance.
Dolapo, who is an ex-wife of Nigerian-born former international footballer, John Fashanu, became an issue of discussion in 2018 when she was said to have moved in and co-habited with her alleged lover, Muhideen Kasali, who is also said to be a prophet.
The report goes that the estranged wife of the former footballer, who is also a British citizen and has two children with Fashanu, abandoned her matrimonial home, and ran after a supposed prophet, whom she allegedly met while on a prayer mission in Oyo State.
The report further alleged that the said Prophet Kasali kept her against her will under an influence, which has also made her sell her house in Banana Island, and chose to live with the Prophet in a remote corner of Oyo devoid of modernity.
Dolapo Awosika was thoroughly painted black in the report, with some part alleging that she goes to pray with the intention of trapping men, among whom is the richest man in Africa, who she was alleged to have had a daughter with – a child she reportedly foisted on John Fashanu.
Though she denied ever being under the influence of any charms, she did not reveal if she was married to the prophet or not.
Well, Kemiashefonlovehaven sighted the beautiful Dolapo on the dance floor with Oloori Naomi.
The words employed KWAM1 while he sang her praises revealed that she is now Mrs Kasali, wife of the blind prophet.
A London trained lawyer and former TV presenter, Dolapo who was based in London before moving in with her new prophet 'husband' has become a regular face in Prophet Kasali's ministry especially the 'Ori-Oke' in Moniya, a rustic and remote area of Akinyemi LGA, Ibadan. She is said to have revamped the ministry with her posh touches and also helped in overhauling the appearance of the prophet.
The well-spoken co-presenter of television talk show, 'Amazons,' with Aisha Falode and legendary actress, Bimbo Akintola, also resides – until 2018 though – in Banana Island, Ikoyi, Lagos. Her path was never supposed to cross with that of Prophet Kasali.
Prophet Kasali became blind at three as a result of a measles outbreak in his village and was once abandoned in the bush by his kin who never thought he'd make good. Well, he has not only reportedly made good as a prophet; Kasali has got himself a quintessential trophy wife. He came into limelight about 10 years ago when he reportedly disarmed a robbery gang on the Ife – Ibadan Expressway, and when he got 25 cars as his 40th birthday present some years ago. Thus, Prophet Kasali may be deemed rich by his congregants and cheerleaders; he still doesn't operate in the same sphere with Dolapo, the Lagos and London high society belle. But that is as far as logical reasoning goes.
She seems to be enjoying her new life as Kasali's wife and she sure lapped up all the praises dished by KWAM 1.
Here is the video: